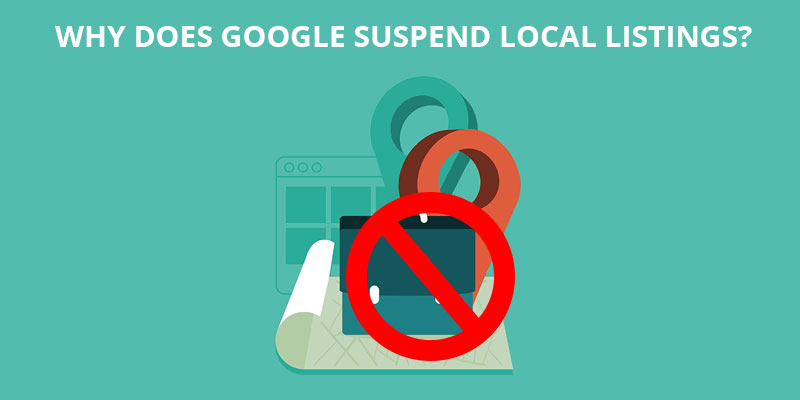 It is quite possible that one fine day you log into Google My Business only to see a big red 'Suspended' banner at the top of the page! Only then you realize that the listing in Google has been suspended! But, you don't know what has happened that caused Google to suspend your listing. Well, there is a long list of things you shouldn't do according to Google My Business guidelines because if you do, you will be suspended right away. Remember that Google will not tell you why your listing got suspended. Obviously business owners want to know which rule caused their suspension but, Google at no cost will let them know the reason.
What are the types of suspensions?
There are two types of suspensions – soft suspension and hard suspension. Soft suspension is when you log in to Google My Business and see the 'Suspended' label and can't manage your listing but, your listing still shows on Google and Google Maps/Map Maker. This means that your listing has become unverified because of some Google guidelines been broken but, the ranking of your listing has not been impacted. To fix this suspension, you will need to create a new Google account and re-verify your listing, and remember not to break any rules.
On the other hand, hard suspension is a serious case where your listing has been entirely removed from Google. When you pull up the record in Google Map Maker, you will be shown a 'removed' tag. In this case, you have no option but to get Google to restore your listing, which has a very low chance of succeeding because hard suspension is only when Google has decided that your business listing is not eligible to be on Google Maps.
In case you experience any such thing, talk to an Internet Marketing Company to help you get out of such situations.
What reasons can cause your listing to be suspended?
Now, let us move towards the list of reasons that can make it possible for your listing to get suspended.
Multiple verified listings for the same business
As per the guidelines – "Do not create more than one page for each location of your business, either in a single account or multiple accounts."
If there is more than one page, both the real and duplicate listings will be suspended but, the legit one will undergo soft suspension and the duplicate one will undergo hard suspension.
The listing was created at a virtual office or mailbox
As per Google, "If your business rents a temporary, virtual office at a different address from your primary business, do not create a page for that location unless it is staffed during your normal business hours."
Businesses create multiple listings at virtual offices because they not only want to rank in the city that their office is located in but, in multiple towns too. If Google finds this out, the listings will undergo hard suspension.
The listing is created for an online business without a physical store
Eligible businesses must make in-person contact with customers. Because online businesses don't do this, Google specifies that they must create a Google+ brand page instead of a local page, meaning that they won't rank in the 3-pack or on Google Maps.
Extra keywords are added to your business name field
As per the guidelines – "Adding unnecessary information to your name by including marketing taglines, store codes, special characters, hours or closed/open status, phone numbers, website URLs, service/product information, location/address or directions, or containment information is not permitted."
This leads to a soft suspension because the business is eligible to be on Google Maps but, has a different name.
The service is being operated in a building that is not owned by you
As per Google, "Ineligible businesses include: an ongoing service, class, or meeting at a location that you don't own or have the authority to represent."
If the place of your business is not owned by you and you are only hiring the place for a service or class weekly, your business will not be eligible for a listing on Google Maps.
The website field contains a forwarding URL
As per the guidelines, "Do not provide phone numbers or URLs that redirect or refer users to landing pages."
If the website URL your business is using in Google My Business is one that is forwarded to a different domain, it will lead to a soft suspension.
The spam filters are very tight
It is possible that you didn't violate any rules but, the industry you are in is cluttered with spam due to which the spam filters are tighter. The solution to this issue is that you post on the Google My Business forum so that a Top Contributor can forward your case to Google.