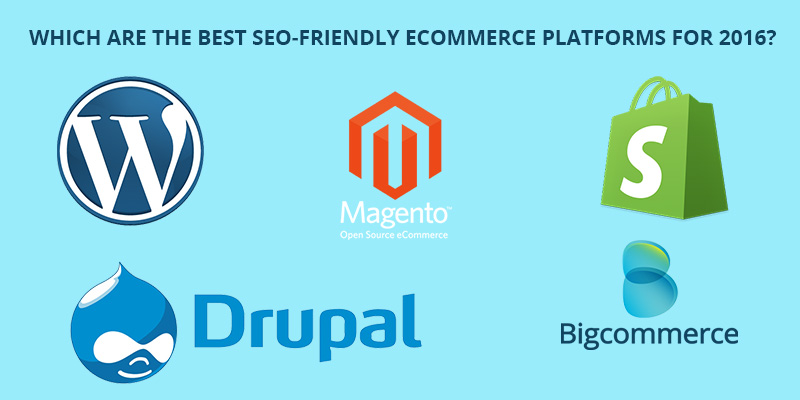 The most important thing about having a strong eCommerce website is the best platform to build it upon so that you have a strong foundation. With multiple CMS options available today, you need to choose the one that suits your requirements the best. eCommerce trends have highly changed over time. Customers are now expecting free shipping and returns, and a great customer support. They also need the option of making comparisons before they can come to a perfect buying decision. Thus, you need to offer quality support to your customers to stay ahead of your competitors. Here is a list of some of the best eCommerce platforms that can be used in 2016. Find out which one will be the best one for you.
WordPress
Trusted by millions, this platform is the most SEO-friendly CMS solution that helps websites to strengthen their organic search reach. From small and medium businesses to large enterprises, millions of people use this platform, which increases the demand for security measures. This is the reason the site's security is constantly being strengthened against security threats and vulnerabilities. WordPress plug-ins and themes are highly secure but, they require a large amount of maintenance. You will need to update and optimize it on a regular basis. Thus, if you have the resources and budget for maintaining your WordPress website, you should consider this platform. Also, with WordPress, you have the opportunity to customize your website the way you like to. Hosted platforms let you stay relaxed with maintaining the security of your site but, do not give you the opportunity of customizing your site the way you would like to.
Shopify
Shopify is an easy-to-use platform which can be used by a non-savvy web person too! It has around 21 free and 116 paid themes to choose from, which look great; and you can connect apps to make them better with tools for social media, email marketing and more. Shopify has the largest collection of apps from accounting to email marketing apps, which you may have to pay for but, they are all mainstream and can be integrated with a simple click. With Shopify, you get a Shopify Buy button that works for selling online. This platform also has one of the top support teams that are available 24×7 through email, live chat and phone calls.
Magento
Magento lets you operate your online store quickly and in a hassle-free manner. It offers many free and paid plug-ins to enhance the performance of your site. Magento is an independent company that continues to be an enterprise-level player. It is the best fit for large-scale retailers and high-end eCommerce websites. It is fully customizable and scalable with a very high level of security, and it offers many features like multi-language, multi-currency support and multiple storefront, that are not provided by many other platforms. Magento offers a free Community plan and a paid Enterprise plan. The Enterprise plan comes with enhanced security, functionality, features and performance, and offers many payment gateway options too. However, one drawback with Magento is that it requires high level programming skills, which is why you will need to hire the services of a company that offers the best eCommerce web development in India so that you get a robust, bug-free and professionally crafted Magento eCommerce website.
Bigcommerce
SEO-friendly and easily customizable, Bigcommerce is one of the most popular eCommerce solutions today. It offers around 42 paid and 16 free themes. You can beautifully display your catalogue of products and provide shipping options and payment gateways with Bigcommerce. This platform is a little expensive but, this is because of the front-end and back-end features that are built into the system. Your product pages will be clean and will offer fields for details, images, videos and more. You can get access to most of the features without the help of apps, which means you need not go to the app store. Bigcommerce offers tutorials and videos at its resource center, and the community forum is great for chatting with other users to get answers to any doubts and queries. Customer support is available 24×7 through chat, email and call.
Drupal
One of the leading Open Source eCommerce platforms, Drupal has thousands of active developers that work together on the platform and its modules to make it better. Drupal is flexible, SEO-friendly and very cost-effective. This platform lets you develop your site in any direction, with fewer limitations and additional costs. Some of the biggest sites in the world use Drupal, one of them being the White House itself! This confirms that this platform is definitely resilient against attacks. It has more than 20,000 existing modules that make it highly modular. You can also easily develop custom modules because of its flexible architecture. Drupal has a massive user base and free support network, where you can get great advice from.
Choose the platform that best suits your needs but, remember that you should choose one that will allow your web business to scale easily with as many SEO-friendly integrations as possible.