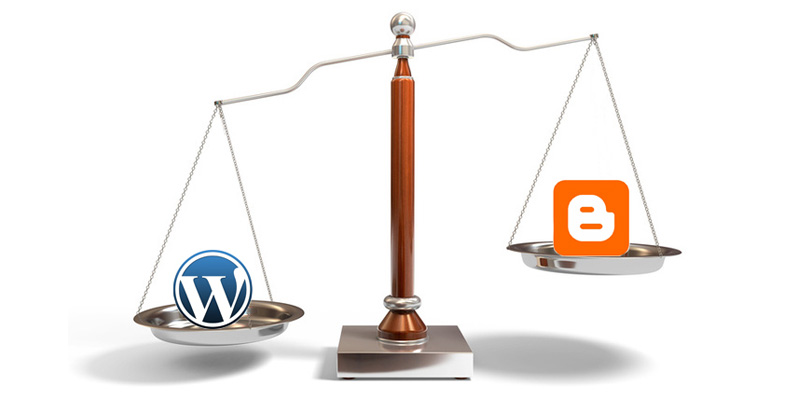 Deciding upon which blogging platform one should use is a very important and confusing decision. Majority of the users prefer using WordPress or BlogSpot. But, it is best to use a self-hosted platform than a free one. WordPress offers a free development platform as well as can be self-hosted. But, BlogSpot offers only a free platform, and websites need to be hosted with them. Hence, it is better to opt for WordPress because there are lots of limitations that are faced while using a free blogging platform like BlogSpot.
A survey carried out states that WordPress is the best blogging platform and BlogSpot stands second. 43% of websites today are running on WordPress, 35% use BlogSpot, 16% use Tumblr, TypePad and Posterous blogs, and the remaining 6% run on other platforms.
Advantages of WordPress over BlogSpot
Easy to Use
WordPress is designed in such a simple way that it is very easy to use. Generally, a blog controls many functions where web designing is required. But, WordPress uses a beautiful panel design, where all the functions are presented very clearly.
Free Plug-ins and Themes
Plug-ins are add-ons that enhance the features of a website and offers functions that help in editing the site as per required. WordPress offers lots of plug-ins with free installation, which help you to edit anything on your website easily. BlogSpot on the other hand, does not support plug-ins, due to which one has to edit the main file in order to make any changes, which is very time-consuming. WordPress also offers unlimited free and premium themes that can be easily installed. BlogSpot offers limited themes and they are not as professional as WordPress themes.
Control over your blog
Having a self-hosted blog gives you total command over it. You can edit and control the site all by yourself. BlogSpot is owned by Google, which gives Google total control over it. Hence, it is not safe because Google has the authority to delete your BlogSpot account without warning you. If spammers use the 'flag as spam' feature and report your blog as spam, Google will remove your blog without notifying you.
Updates
WordPress keeps updating and releasing a new version, which turns up with added features and functions. BlogSpot lacks in regular updates. It does not even support new coding languages like PHP and JavaScript.
Customization
WordPress can easily be customized as per the requirement by adding plug-ins and choosing from a variety of themes. Customization plays a vital role in blogging. Customizing BlogSpot is very time-consuming and is not as easy as WordPress.
AdSense
AdSense is a program designed for website publishers who want to display targeted text, video or image advertisements on website pages and earn money when visitors view or click the ads. Self-hosted blogs are usually approved easily due to blogs having domain email address, professional qualities and copyright free content.
Reselling your blog
Selling a WordPress blog is easy because the control is in your hands. But, Google does not allow reselling of BlogSpot blogs. It doesn't transfer the ownership from one person to another.
Disadvantages of WordPress over BlogSpot
Apart from the many advantages WordPress has, there are also a few disadvantages.
Cost
In order to create a WordPress blog, you will have to purchase a domain and hosting of your own, and install the blog software. All this is going to be quite pricey, whereas, BlogSpot is provided by Google for free. This will only require purchasing a domain name, which is comparatively cheaper than the costs incurred in case of WordPress.
Low Security Level
By default, a WordPress blog has low security. In order to make it secure, you will have to use plug-ins and codes. But, since BlogSpot is served by Google, it takes up the responsibility of securing BlogSpot blogs.
Comparatively Difficult Coding
WordPress is a CMS blog created using PHP. It also requires the knowledge of JavaScript and JQuery. BlogSpot is designed with HTML and CSS, which are comparatively simpler.
As seen above, WordPress has lots of advantages over BlogSpot. No doubt it is costly to create but, the costs will not be a matter of concern considering its long term benefits. It has low security but, this issue can also be dealt with. So, WordPress is definitely the best option for blogging. If you are looking for creating a WordPress blog or website, Jain Technosoft, with its team of skilled WordPress Web developers, experts and designers will build it for you in a SEO friendly manner to get you more targeted traffic.