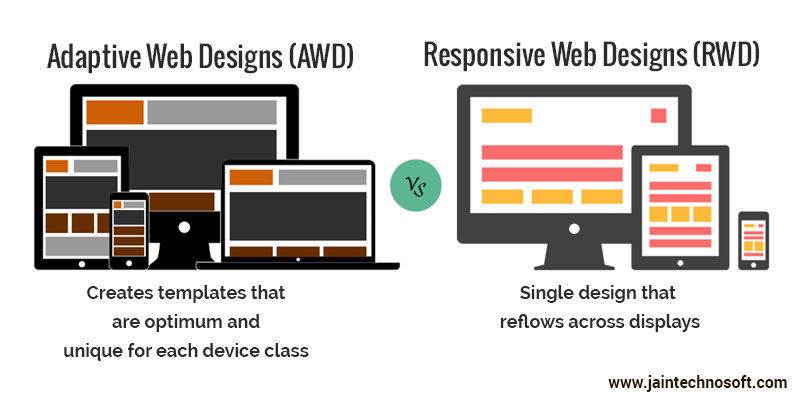 If you have an online website, there are high chances that you would have heard about adaptive web designs (AWD) as well as responsive web designs (RWD). Often it is seen that many businesses think both the terms mean the same and simply choose any one of their web design. But the fact is both AWD and RWD do have differences.
Before going into the differences it will be good to have a brief idea about what these two terms mean:
Adaptive Web Designs (AWD)
These web designs use the server to detect the device which is being used to view the website. That is whether the website is being viewed on a desktop, tablet or a smart phone. AWD maintains separate templates for each of these devices. As website built with adaptive web designs have their own domain, they load at a good speed.
Responsive Web Designs (RWD)
RWD on the other hand is geared towards providing optimal viewing experience to the visitors on the website. Here the web development is done by using specific CSS code in order to modify the website's presentation based on the device it is being viewed on.
Here are some major differences between both the designs:
As is mentioned earlier, AWDs requires development and maintenance of separate websites for different devices. This can be done by separate URLs or separate HTML/ CSS codes. Responsive web designs on the other hand, does not require this work. It relies on the existing HTML/ CSS3 and JavaScript, thereby saving your time and energy.
Though it is true that AWDs have their own domain and thus load fast. The fact remains that loading the loading the extra layouts of AWDs will take extra time and resources. While in the case of RWDs this is not at all the case. And thus responsive web designs load at a greater speed than AWDs.
Another major difference is in the sphere of search engine optimization (SEO). If you choose an adaptive web design for your website, then to do a single change you will have to rework on the content and linking for the entire website. But when it comes to responsive web designs, making changes can be done in a matter of minutes. This is because the content settings and links get carried over through the intact HTML/ CSS3 and JavaScript. This way RWDs are easy and hassle free to maintain.
An adaptive web design makes it necessary on your part to have an advanced knowledge of CSS and JavaScript. Again responsive web design has an advantage here, as it just requires you to have knowledge about making changes to the existing codes alone.
Thus in case you are still wondering in which website design will bring you better results – the answer is responsive web designs. According to experts, RWDs is always the safer option as it always functions well regardless of what new screen sizes come and go. Along with this it is user-friendly as it requires less time to load, is SEO friendly and ultimately is worth the time and effort which one puts into it.