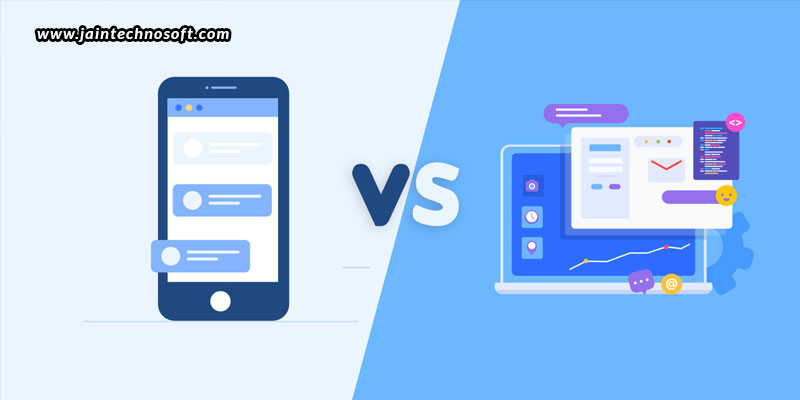 We all know how smartphones are outnumbering desktops in terms of browsing or surfing the Web. More and more traffic is coming from mobile devices, whether it is about finding a route, finding a nearby location, shopping online, downloading or installing something, or just simple entertainment. This makes it very important to target such mobile-using audiences. So, this means that you must build a mobile app to reach out to such audiences. But, does that also mean that you mustn't invest in a website?
A website or a mobile app – this is one decision business owners are struggling to make. They aren't able to decide as to which of the two is a better way to reach customers, and which proves to be more effective than the other. If you ask a digital marketing company, they'll tell you how there's no one better choice than the other. Both the strategies have their own effective outputs, and benefits. Both websites and mobile apps are important.
How do websites and mobile apps differ?
A website is the page that visitors are offered when they go directly to a site from an Internet browser on their smartphone. There is no download needed; the website shows up automatically. It could either be a responsive website that immediately accustoms itself to the mobile screen size, or it could be a desktop website asking the visitor to switch to the mobile version. A mobile app, on the other hand, is available for download from a store like Google Play or App Store. It cannot be accessed without being downloaded.
Which option is better between websites and mobile apps?
As we can see, websites and apps are two different entities. But, so are user habits and activities. Websites can be used on almost every platform, while apps need only smartphones and tablets to be accessed. Individuals who have access to desktops almost every day can find it convenient to use a website for their activities as it's easy to browse and navigate through on a bigger screen. Similarly, for individuals who are always travelling, or are too busy to switch on their laptops every now and then, a mobile app is a more convenient option. Obviously, downloading a different app for every different activity can become troublesome. Downloading more apps can also result in lots of storage space being used up. But, an app can be great for a business that provides a survival service that can be used daily or has temporary reliance.
What are the Pros and cons of websites vs mobile apps?
A website can be easy to use, whereas an app needs to be specially downloaded. If anyone wants to try out an app, he'll first need to download it and sign up to further understand the products/services. This may bring in hesitation or rejection from visitors, which proves to be a great downside for app marketing.
Mobile apps can come up with message pop-ups and remarketing ads to re-engage users easily. They have an advantage of sending push notifications to their customers. This option is not available in the case of websites. It becomes more effortful to bring back users to a website. After all, retention is important.
Conclusion:
After looking at the different pros and cons of both websites and mobile apps, you can clearly see how both are different and beneficial in their own ways. Also, you realize that what one business needs is not what another wants. All businesses are different from one another, and so are their requirements. It thus depends on the kind of business and target audience that you hold, which will have you to decide as to whether you should invest in building a website or a mobile app for your trade. Whatever may be your choice or requirement, you can always hire the best website development company in India to help, one who has the skill and expertise of designing and developing both a website and an app. After all, what you need now may differ from what you will require in the future. Thus, having a single professional who knows both the strategies can prove to be fruitful.