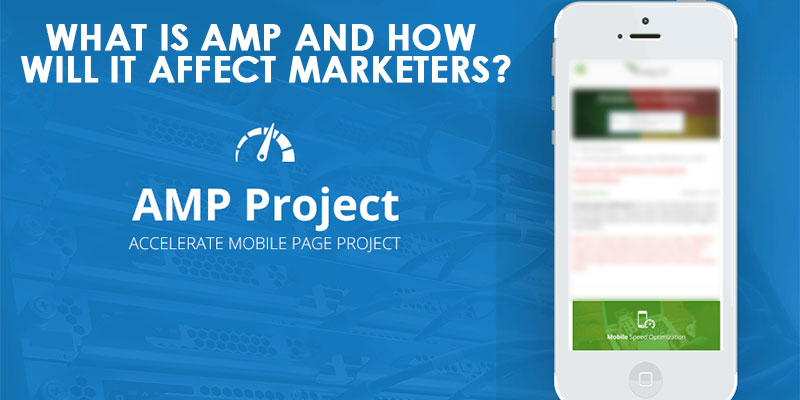 In October 2015, Google had announced the introduction of its new project about Accelerated Mobile Pages (or AMP in short), which would be an initiative to improve the performance of the mobile Web. This latest move with a goal of a better and faster mobile internet is due to launch at the end of this month. Anyone can get on board with Google's AMP and use it to create Web pages. With AMP on the verge of being launched, it is better to understand what it consists of, how it will work, how it will alter the experience of the mobile Web, how advantageous it will be for the marketing industry, and more.
What is AMP?
AMP is a stripped-down version of the mobile Web, which runs on a reinvented version of HTML known as AMP HTML, where most of the elements are stripped out to help pages load faster. The AMP version of a website results in a better visual quality than the non-AMP version which appears visually cluttered. As per Google, a page created with AMP HTML can load anywhere ranging between 15 to 85% faster than its regular version.
How can AMP help in improving search ranking?
With Google's Mobilegeddon algorithm, we all know that mobile-friendliness is a very important ranking signal for Google. Websites that are mobile-friendly tend to reach a higher level in SERPs. So, it is obvious that AMPs that are designed to load more quickly and provide a great user experience on mobiles, will definitely improve the ranking of a page. In fact, AMP websites will be highlighted with a small green lightning bolt symbol to help users know that these are lightning fast mobile pages. So, apart from mobile-friendliness playing a major role in impacting mobile SEO, websites that run on AMP HTML will also definitely be considered by Google for raising the ranking position.
How will AMP increase page views and ad views?
40% of users leave a page if it takes more than 3-4 seconds to load. The longer a page takes to load, the more users leave the page. However beautiful the content or however useful an ad, nobody will be viewing it if it takes forever to load. Google is planning to re-conceptualize digital ads on mobile for AMPs. Google very well understands the importance of online marketing and advertising. It is making sure that AMP traffic can be quantified and analyzed like regular pages. 
In January, Google announced what all will be included in AMP and how ads will work. It said, "When AMP launches on Google Search in February, it will include important basic functionalities. These include the ability to traffic ads with ad servers of your choice, support for multiple demand sources and formats (including native ads), full control over ads placements, and viewability measurement."
At present, more than 20 ad tech vendors like Outbrain, AOL and Taboolah are already on board with AMP and Google is eager to invite more and more advertisers to the AMP project because it has an incredibly useful set of tools and functionalities that all advertisers can use. Google is adamant that working according to the principles of AMP will be the answer to reveal the next $50 billion of advertising revenue on mobiles.