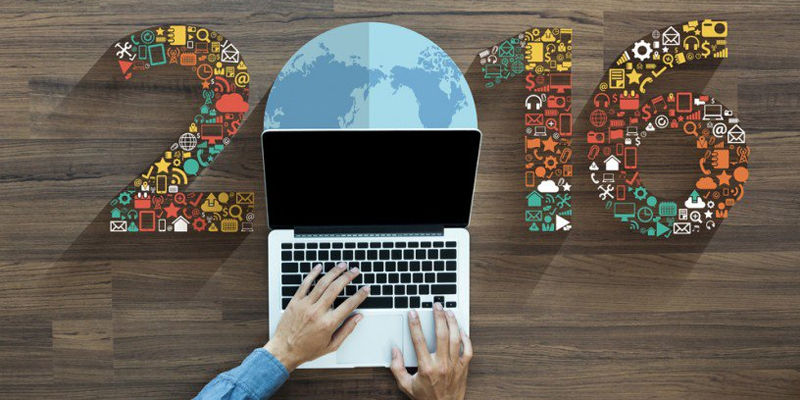 Web design trends are ever changing and evolving for the better. The year 2016 has also seen some exclusive Web design trends like card layouts, parallax scrolling, material design and flat design. Let us take a closer look at each one of these and learn how to imitate them with a prototype tool.
Card layouts
Card layouts are the top design pattern of 2016, where onscreen information is presented in the form of cards. These cards can be stacked, flipped over, grouped or spread out. This design type helps in non-hierarchical organization of information, liberated of screen size or device being used. Since n-number of devices with a variety of screen sizes have come up, the card layout design has become popular as cards help to adjust the design to a variety of screen sizes without losing their design elements.
Creating a card layout prototype – Use Justinmind to build a card design with dynamic panels and create a grid for your cards in the canvas. Use multiple screens and linking events to create a responsive design for your cards. Reuse content by using templates to avoid rework. Also, make sure you avoid clutter and focus on whitespace.
Parallax scrolling
Parallax scrolling became highly popular in the year 2015, and has been only speeding up ever since. In this kind of design, the foreground moves at a different speed than the background, thus tricking the viewer's eyes into seeing a 3D effect. This effect has grown even more with the multi-plane animation and multi-directional scrolling effects used today.
Creating a parallax scrolling prototype – Axure and Adobe Muse offer UI kits and libraries with elements that can help you prototype parallax. You will need to design the UI of the website first and then add parallax elements to it. You can add parallax components once you have the background image and visual elements that you want to add to the UI. To have a site full of depth, you can add pinned elements, prototype sticky elements, apply carried scrolling speeds and create floating menus.
Material design
Material design is nothing new as Google had introduced this concept in the year 2014. However, design elements for creating a material design have been developing ever since. Skeuomorphic effects like depth, grid layouts, padding, animations and transitions have been brought about. One of the most significant elements is Google's floating action button, which animates onto screens upon opening a page, and its shadow gives the impression of floating above the surface of the page.
Creating a material design prototype – Use the Justinmind tool to create a floating action button from scratch. The Ellipse UI element can help you create a circle-shaped floating button icon, along with changing the background colour, shadow and padding. Add text directly to the widget so that you can add the 'plus' symbol to the same component. Make the action button more interactive by adding a trigger or navigation event to it.
Flat design
Unlike material design, the flat design discards all the skeuomorphic effects and focuses on sharp edges, bright colours and flatness. It cuts off all the clutter and concentrates on content and clear navigation hierarchy. For those who want minimalism in Web design, the flat design is the best choice.
Creating a flat design prototype – Sketch and UX Pin's E-book are great to help you start designing for flat design. UI elements that help in creating lots of open space with flat edges and strong colours are what you need to opt for. You need to pay attention to white space, visual hierarchy and positioning of elements. Atomic design elements help create minimalist UI elements in an interface, and SVG UI elements help to easily change the background colour and scale them to fir your design on multiple screen sizes.
Whichever kind of Web design trend you wish to apply for your website, you can hire the most professional Web design company in India to do it for you with ease and complete proficiency. So, choose your most preferred style and hire the best professional right away!