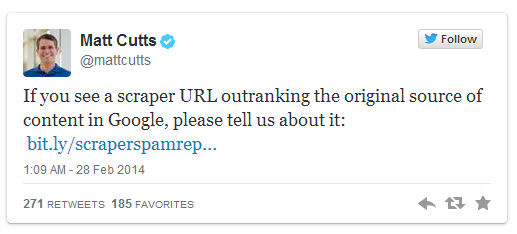 Google's head of search spam Matt Cutts made an announcement on Twitter informing about a new tool which lets Google to know about scraped content that outranks than original content.
Scrapper Report Form, the new tool which allows to alert Google about instances just in three simple steps.
Provide the source URL, where the content was taken from.
Provide the URL of the scraper site where the content is being republished
Provide the keywords where the scraper site was ranking on.
Google didn't reveal what exactly they are doing with this data. Since this news was reported by Matt Cutts, it can be assumed that the information reported will be sent to web spam team for consideration. Hopefully this helps the spam team to improve Google algorithm so that original content ranks above scraped content.