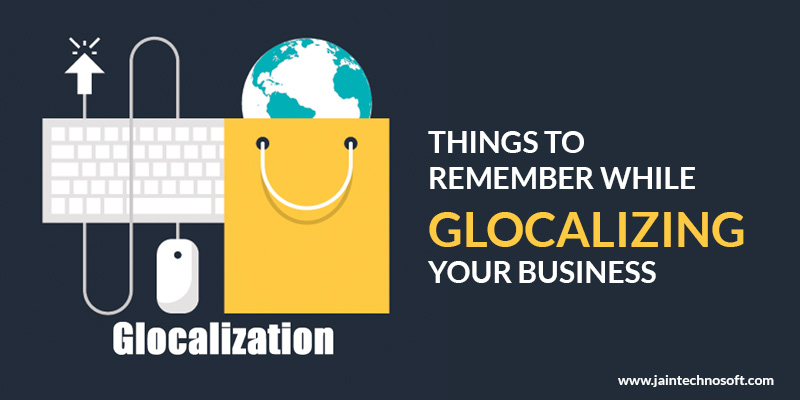 Businesses are going global easily with the help of technologies and Internet. It seems like the concept of local and global is merging into one gradually. Competition has increased drastically. In order to survive in such competitive environment, it is necessary that businessmen adapt to glocalization.
'Glocalization' is a term made by combining two words – globalization and localization. This is when a company sells its products or services globally i.e. to the entire world but, markets them locally to fit a particular consumer segment. For example, you may sell your services to clients all over the world but, you may advertise yourself to target customers in India, making yourself more visible to people in India who are searching for such services.
As a businessman, you need to have an in-depth understanding of the consumer base and decide on the consumers you want to target. It is very important to target the customers who would be beneficial for your business. The deeper understanding you have, the better you can deliver your products/services. Learn what things you need to check for if you are planning to build up a global business.
Business name
What you name your business is very important. For example, if you have a local business catering to people only in India, you may have an Indian name for your business. But, when you decide to go global, this business name may or may not be recognized by people of any other culture in the world. Also, it is possible that a word in a particular language means one thing and the same in another language means something else. So, when you go global, it is very important to check that your business name does not carry any negative meaning or understanding in any language of the world.
Do a research
It is important that you do a research on the businesses that already provide the same products/services as you to your target audience. Find out which of their products/services sell better and how the customers react to them. All this will let you know where and how you can fit in. Also, analyze the businesses who have failed in this segment. You may get a lot to learn from their failures to know what things you must avoid to escape failure.
Language and cultural differences
Consumers in different countries may not speak English or any language other than their native language. How would you communicate with them or how will you be able to assist them if they need help? This is why it is recommended to hire bilingual staff members who can help do the translations for you. Instead of hiring full-time translators, you may even outsource the task to freelancers.
Another issue is the cultural difference between countries – What people want in India is not what people require in America, which will highly affect your sales and business. Thus, it is important that you research cultural practices in different countries in which you want to expand your business.
Taxes and government policies
You need to be well aware of the various taxes and business regulations in every different state and country you want to expand your business to. Other than the government policies and taxes, there is more to this. So, you may need to set up separate business entities and bank accounts for different countries. Also, every country has its own labeling and packaging standards you need to comply with. Some banks may not deal with accounts of other countries.