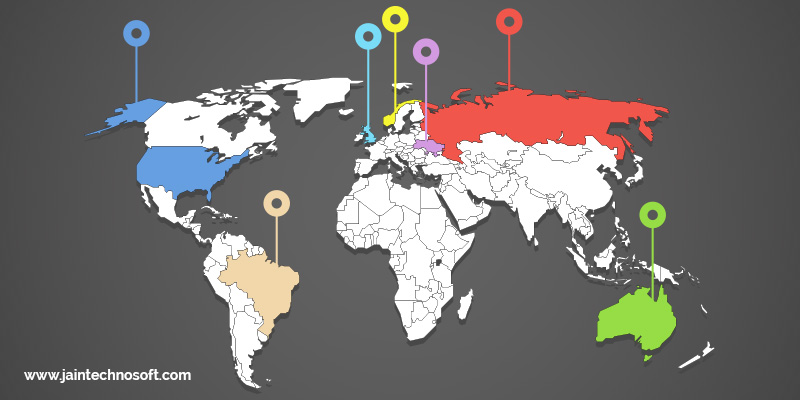 It should be a priority for you to have a targeted country for your business so that you can better plan your content marketing and other strategies. If you want to target country-specific website traffic onto your site but, you don't know how you can achieve it, we are here to help you. Given below are some easy guidelines to help you bring in traffic from the country you wish to target.
Domain name registration
If you want to rank higher globally on search engines, the two best domain extensions you should use are .com and .org but, if you want your website to target a specific country, it is better to buy a country-specific domain. For example, if you want to target the audience in India, you should use the .in or .co.in domain extensions. For targeting traffic in Australia, you should use .au and for targeting traffic in UK, you should use the .co.uk domain extension. Using .com or .org will make it difficult for you to rank on country-specific search engines. So, it is best to use a country-specific domain extension if you are clear with your goals and know which audience you want to target.
If you are looking for an affordable domain name registration in India, you can get in touch with Jain Technosoft, who other than providing a domain name can also help transfer your domain name that you may have registered with another registrar.
Location of web hosting server
The location of your server plays a very important role in driving country-specific traffic. You must host your website on the server based on your target country. This will help your website load faster in the particular country because of the server's IP and search engine bots will be able to locate your server. This will help your site rank higher in your target country.
Targeting through content
Content plays an important role for Google to know which country you are targeting. You can use content in the best possible way to help drive country-specific traffic to your site. Use the kind of content that can connect with the country level you are targeting. For example, the English language you use for websites in India is not going to rank well in the US. So, if you want to target traffic in the US, you need to make sure that you improve your language to that level. The best way you can use the perfect language for a particular country is by hiring writers and editors from your target country to write for you. You can also add the country's name in your meta titles and descriptions to make your content keyword-targeted and to give a signal to the country you are targeting.
Google Places
Google Places is very useful to help you target local traffic and rank higher in local SEO. You can claim your business in Google Places and add your address, phone number and other details to help Google determine your business location.
Google Webmaster Tool
Google Webmaster Tool (GWT) is a free tool from Google which helps bloggers and webmasters to seek country-specific traffic. Using this tool, you can set the country that your website targets, which helps you drive traffic from that country. After verifying your website in GWT, you can go to 'Settings' under 'Configurations' and specify your target country.
Backlinks
Backlinks have always been an important part of SEO. So, you must try to get as many country-specific backlinks as possible. This means that if you are targeting audience in India, you must try to get more backlinks from India based websites. How you can do this, you may ask. You can use Alexa to find the popular websites in your target country and domains with country-specific domain names. Drive backlinks from these websites by spending some time on guest blogging. But, make sure to do it right if you want to avoid Penguin penalties. You can also submit your website to local search engines and local web directories to help getting country-specific backlinks.