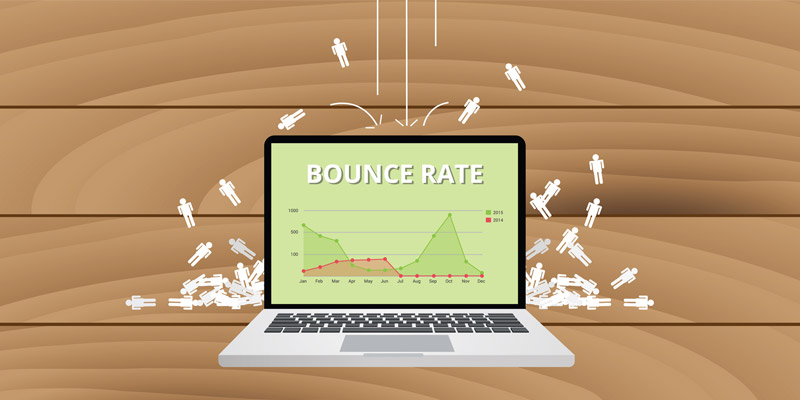 Bounce rates are one of the unhealthiest things for a website that reduces conversions, sales, and revenue; thus increasing losses for the business. Bounce rate is the percentage of single-page visits where individuals leave a website without going to other pages. It is calculated by dividing the total number of visits to a page with the total number of people landing on that page. So, what can be considered as a bounce? Generally, when a visitor clicks on the back button almost immediately after landing on your site, or clicks on a link to a page on a different website, or types in a new URL, or when there is a session timeout, it is considered as a bounce. Having such bounce rates that are below 25-30% is manageable, but anything above that definitely demands you attention for an appropriate action to be taken. So, how would you know that your bounce rates are at the limit of claiming your attention? Well, if you have been struggling to increase search traffic to your site, get more leads, acquire more customers, or improve email signups, your bounce rate is probably too high. This is when you know that you need the urgent help of a proficient digital marketing company in India to appropriately correct the flaws on your site. The probable actions that will need to be taken on your site to reduce the high bounce rate could include any of the below mentioned ones.
Speeding up your page
Speed is of utmost importance in today's fast paced world. Nobody wants to wait for anything when they are getting the same thing elsewhere. So, why would visitors wait for your page to load when they have so many other options to choose from? Visitors expect a page to load within 2 to 3 seconds. Any longer will have them abandoning the page! this makes it compulsory for you to put in all efforts to have your page loading in less than 2 seconds, or else all your hard work of setting up your site goes down the drain.
Improving content readability
Have you provided content that is easily readable and appealing to the eyes of the visitors? Even if you have the best and most relevant content, it is of no use if you haven't put it up properly for the readers. Large chunks of text can immediately shoo away visitors from your site. Lousy formatting results in higher bounce rate and faster exit rate. What you must do is break up the text into small paragraphs, each with headlines – big and bold – to give a gist of what the paragraph is about. Also, use bullet points wherever possible to make the content easier to read. Also, you must bold your important keywords, and use relevant images, charts, and infographics to make your content attractive and interesting.
Improving brand storytelling
Stories have always been interesting and engaging. You can use this fact to story-tell your brand and attract visitors too. Storytelling can bring your brand to life, but how you use it is of utmost importance. You need to identify with how people read content. They are generally only scanning the page the first time they land there to look for something that stands out and attracts them. You must therefore use such words, images, or headings that catch the attention of visitors and appeal to them in a dynamic and emotional way. This way, they will be attracted towards you and trust you more. However, remember to be truthful in whatever storytelling you do.
Avoiding popups
Irrelevant, and sometimes even though relevant, popups can be annoying for the visitors. Majority of people just hate popups that disrupt the user experience when they are in the middle of browsing something important. Conversely, it is also true that popups have led businesses to gain conversions. So now the confusion is whether or not you should use them. It is always better to avoid them when not required. However, if you are really determined on promoting and advertising something on your site, make sure it doesn't disrupt the user experience. If absolutely required, limit the popups and make them as unobtrusive as possible.
Having a responsive/mobile-friendly site
We know how the world is full of smartphones and gadgets. People have almost forgotten desktops, and are glued on to their mobiles, tablets, and notebooks for even browsing the Web. This makes it crucial for you to either make your website responsive to work on all kinds of screens, or having a special mobile-friendly site that helps mobile users engage with your site easily. Today, 95% of users are on mobile, so make sure you optimize for them.