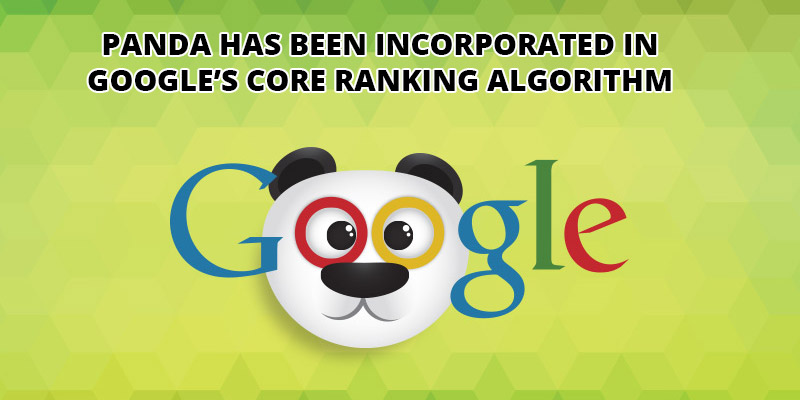 It's time to say "Goodbye" to Google Panda now! Google Panda, which has been one of the most significant spam-fighting ranking algorithms for Google, is not going to come up with any more updates. "Why?" you may ask. This is because Google has now officially incorporated it in its core ranking algorithm. Some changes have been seen over the past few weeks over the Web, which had been rumoured to be the Penguin 4.0 update but, it was actually Panda.
Google had come up with a comprehensive Panda guide, which included the following statement, stating that Panda is now a part of Google's core ranking algorithm – "Panda is an algorithm that's applied to sites overall and has become one of our core ranking signals. It measures the quality of a site, which you can read more about in our guidelines. Panda allows Google to take quality into account and adjust ranking accordingly." This means that Google will be paying more attention to a website's quality signals than ever before!
So now, the quality of content on your website will matter more than it has ever meant before. Panda was initially developed to get rid of poor quality content from Google's search results. So now, when it is incorporated into the core ranking algorithm of Google, you can imagine how quality of websites is going to be a major concern! Google says that it is better to focus on creating the best possible new content for your site now.
If your site has been hit by the Panda algorithm, you can use the 'Search analytics' feature in Search Console to identify the queries that lead to those pages that provide unclear information or don't satisfy the users' requirement. The first thing that would come to your mind is to delete those pages, right? Instead of trying to cover up your faults, it is better to find ways to improve. So, instead of deleting those pages, you should create new pages that provide unique information to the users. Your site might be shown for more specific and highly-relevant queries on Google but, its visibility will be reduced if it fails to benefit the users. Anyway, you need to stop thinking about how many visitors you have had, and think about how many visitors you have helped.
Let's come back to Panda being incorporating into the core ranking algorithm. Until now, we have been seeing Google rolling out a separate Panda update at its own discretion but, this will no longer be the case from now on. We will not be seeing any more Panda updates in the future. The last one was Panda 4.2, which started rolling out in July 2015.