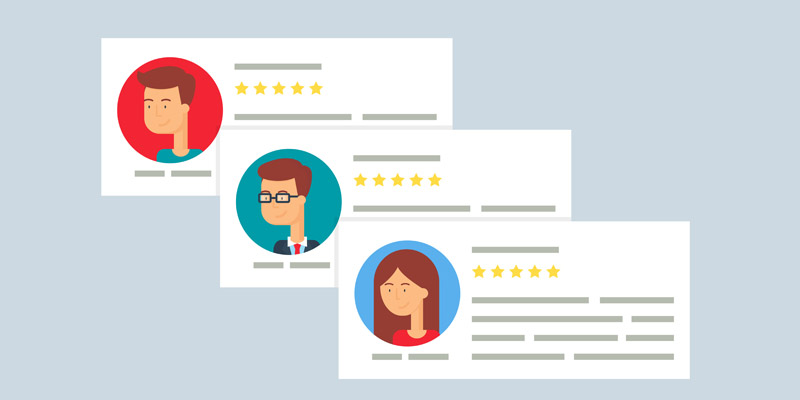 49% of users check online reviews before deciding to purchase a product/service.
72% of users trust online reviews as much as references from friends and family.
Online reviews take up 13% of space required to reach Google's local pack.
Online reviews are the 7th factor that determines organic local search rankings.
So, what do the above statements seem to say to you? Isn't it clear that online reviews are a must for ranking and SEO today? Whether you want to rank higher on SERPs, or get a place on Google's local pack, or tempt users to purchase from you, online reviews is a factor that can greatly help. This is the reason why more and more marketers and SEO professionals have been taking strategic approaches towards online reviews in order to improve local SEO performance. Obviously, there is a lot you need to do in order to get online reviews, and that too the best ones, for which you will need to hire professional SEO services in India so that you can have the best professionals working on your SEO strategies effortlessly.
Why online reviews are important to get into Google's local pack?
Google's local pack is one of the most sought-after places by businesses. It is the set of three highlighted Maps-based results featuring the best ranking business for a particular search term. Online reviews make up 13% of what one needs to get a place into the local pack, making it the top 4th factor that determines whether or not a business is entitled to get listed in the local pack, after Google My Business (19%), link signals (17%), and on-page signals (14%). It is only after online reviews that other factors like behaviour signals, social signals, and personalization are considered.
Why online reviews are important for organic local search rankings?
Just like online reviews stand on the 4th position to get a business in Google's local pack, it also stands on the 7th position to get a business listed in organic local search listings, after link signals, on-page signals, behavioural signals, personalization, citation signals, and My Business signals. More reviews and positive ratings can help improve a business' local ranking position. Therefore, marketers who actively stay engaged with their customers can position themselves better in search. Even if you can't get yourself into the local pack, having higher ratings and consistent positive feedbacks can influence users to click and convert.
How can online reviews help in building a brand?
The metrics that comprise of online reviews like rating scores, review quantity, review quality, review diversity, review freshness, etc. are highly helpful to build up the reputation of a brand. Let us understand these metrics in detail.
Rating score – high star ratings that can persuade searchers
Review quantity – high number of reviews that builds credibility
Review quality – excellent reviews with high ratings and positive sentiment data that boost brand reputation
Review diversity – reviews across multiple high-authority review platforms that broadens social and digital footprint
Review freshness – most recent and updated reviews that help the business stay relevant
You definitely shouldn't ignore the power of online reviews anymore! By investing your time and effort into executing an online review management strategy, or by hiring qualified SEO services in India to do the same, you can boost your search visibility, grab more clicks, and gain the trust of consumers. After all, a majority of consumers today are seeking out online reviews to confirm their purchase decisions. So, keep finding ways to boost the quantity and quality of reviews you get, so that your business can have a more credible appearance.