Many websites are plagued by some glaring design errors or other complications which can turn visitors off very quickly. A well designed website will increase brand awareness and ultimately lead to sales. Using a professional web designer will allow you to focus on what is most important to you – running your business.
When someone visits a company's website, there are usually expectations that he sets for that company. Consumers base their decision to make a purchase or return back on how the website looks and performs. This is all pretty reasonable right? Usable websites offer great user experiences and great user experiences lead to happy customers. A website should ideally include all the shareable details about your operations, products, impending product launches, offers, customer testimonials etc. Today we are living in a society wherein everyone wants everything fast, so you have just three seconds to make a lasting impression on a visitor of your website.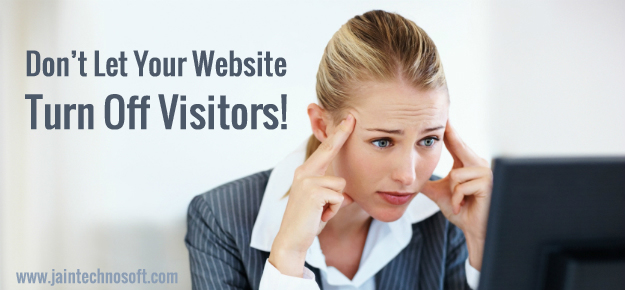 Everyday we see some examples of poor design or bad practices. With a little attention, you can easily avoid these problems. Here are a few useful web design practices you must follow to create a great user experience and grow your business:
Design your site for a wide range of devices:
Today around twenty percent of internet traffic is from mobile devices. Responsive web design is ideal and it's rapidly becoming more popular and widely supported. Responsive Web Design (RWD) is an approach of laying-out and coding a website such that the website provides an optimal viewing experience, ease of reading and navigation with a minimum of resizing and scrolling across a wide range of devices(from desktop to mobile phones). This is done automatically using CSS media queries that detect the size of the screen and adjust it accordingly.
As more and more people get used to browsing the web through their smartphones and tablets, it is very hard for any website publisher to ignore responsive web design. It is no longer suitable in many cases to design a website that only looks good on the big screen. Some responsive sites filter content as the size shrinks to keep the most important information easily visible on a small screen.
Fresh content boosts your website traffic:
Visitors get bored when they see the same information up on the website every time they visit the site. Bored visitors are not your customers. It's important to have relevant and quality content, not just a high frequency of posts. The age of a web page or domain isn't the only freshness factor for a website. Contents that change more often is scored differently than content that only changes every few years. Fresh content delivered on a regular basis is imperative to a successful SEO. Some SEO experts insist you should add 20-30% new pages to your site every year. Ranking sites by freshness is a logical way to decide which pages are going to be more up to date and useful. One can use popular tools to perform keyword research and base your content around those keywords. This is an essential but often overlooked aspect of content marketing. Link Building also favors quality content. Site content keeps readers coming back and it is a critical component in fueling website growth. Quality content will help drive traffic to your website and influence search rankings.
Answer user's questions:
Users are highly goal driven on the web. Customers appreciate it when you answer their questions quickly, fix their problems and let them know you care. Using social media and online forums are also great ways to stay in touch. Not only do your visitors get to connect with you, they also have the opportunity to interact with other visitors too. The ultimate failure of a website is when it fails to provide information that users are looking for.