Google webmaster tools should be just as important to SEO Experts as Google analytics. Google introduced "Manual Webspam Action" viewer feature in Webmaster tools, a much awaited feature requested by webmasters and website owners.
To access the feature, simply click on "Manual Actions" under "Search Traffic" in Webmaster Tools. If Google hasn't taken any action against your site, you should see a message that says "No Manual webspam actions found."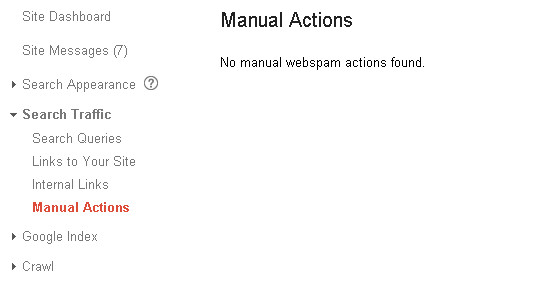 Four type of reported webspam:
User-generated spam (Comment Spam)
Thin Content
Unnatural links
Hidden text/ Keyword Stuffing
If the user viewing the Google webmaster tool report has administrative access, a red "Request a review" button is shown below the spam listing. Below is an example for "Unnatural Links to your site-impact links"
If your site has been found having manual action, probably you will see detailed information mention like if it is "Site Wide" or "Partial Match" and type of problems like "Unnatural links", "Hidden text" or "Pure Web Spam" etc.


Once you've corrected any violations of Google's quality guidelines, the next step is to request reconsideration. With this new feature, you'll find a simpler and more streamlined reconsideration request process. Now, when you visit the reconsideration request page, you'll be able to check your site for manual actions, and then request reconsideration only if there's a manual action applied to your site.
In case of "Partial Match", it will also show you the list of URL's which have been taken action against. There is also a "Request a Review" button for such sites to request quick reviews once you have fixed the problem.