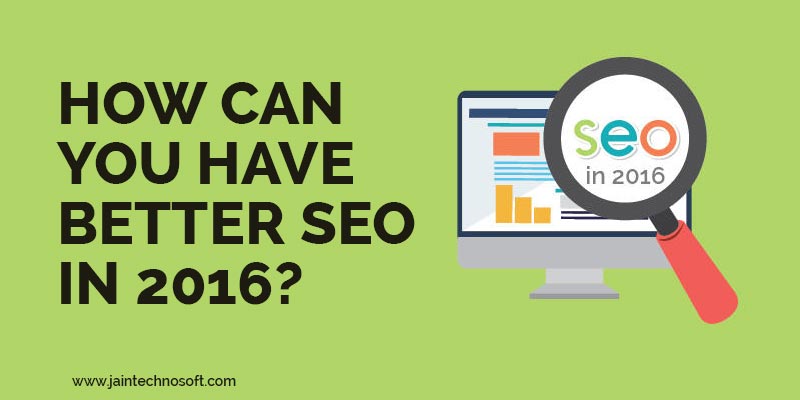 Are you still clinging onto old SEO tactics and strategies that you have been using since years? Then, you might be way behind the others. It's time you shift to the latest developments and re-evaluate your strategies. There have been many modifications done in 2015 for search engine ranking factors and it is highly important that you adapt to these changes. Since India is the IT hub of the country, every top SEO company in India will definitely make it a point to stay updated with the latest strategies. We have mentioned some of the most important SEO elements that will be useful to you in 2016 like keywords, content, links and SEO for mobile.
Keywords
Just like it was earlier, even today it is essential that you find words and phrases that your competitors are using for promoting their business and attracting customers towards them. You can use keyword research tools like Google's Keyword Planner, Searchmetric's Keyword Analysis, SEMrush and Ubersuggest to find popular keywords and phrases. Check for the keywords on your website that are generating traffic and sales. Accordingly, you will be able to decide which keywords to keep and which ones to replace with new popular ones. Make sure to also use long-tail keywords in your content, while keeping the language simple and natural for more people to understand and connect with.
Although the above mentioned strategies are the same we used last year but, there has been a major change in the way keywords are used. There is a different relationship between keywords and rankings today. Google does not rank websites solely based on their keywords. Today, it analyzes how useful the keywords are in terms of user intent. So, while performing keyword research, make sure you find relevant topics around which you can structure your content. Learn how the audience and users are reacting to those particular keywords or keyword phrases before using them in your content.
Content
Just like for keywords, you need to find what your competitors are providing in terms of content too. Use tools like SEMrush and Linkdex to help you know where all your keyword presence lies for your competition. After checking for your competitor's top keywords that you do not rank for, you now need to review their content that has gotten them the attention. Tools like BuzzSumo will help you show similar content created for a particular word or phrase in the form of blog posts, articles, infographics, etc. You need to find out what particular type of content works for a specific keyword.
Now, you will have a better idea of creating your own content around the top priority keywords. But remember, the tactic of writing short content with high keyword density won't work anymore. What works is long-form content that provides value and meets the users' needs. Cover a particular topic, incorporate elements that are important for rankings, use relevant terms and all this will help you attract shares and links.
Links
The year 2016 is no more about link building; its all about link earning now. The old concept of exchanging links, submitting your site to web directories and posting links to your site is gone because all these tactics may lead to ranking penalties. So, rather than building, buying or exchanging links, you should work towards 'earning' links by publishing high-quality content. Other than content, offer something valuable too like product samples, giveaways or scholarships to attract people. Giving away something that others do not will definitely create interest among the users. You can also adapt to guest blogging, which is a great way to reach new target audience. You can also promote your content on social media. Although Google does not count on the shares and likes you may get from social media platforms but, likes and shares will help your content to be seen by a larger audience, which will help in bringing in more links, which in turn will help you rank higher.
Mobile SEO
Mobile searches have outranked desktop searches in 2015, and the number will only increase this year. So, if you have not yet optimized your site for mobile, you are definitely losing out on a lot. Apart from having a mobile-friendly responsive design, you need to focus on other factors too like size, speed, format and ads. People want sites to load quickly. So, make sure you have the minimal file size so that it doesn't take to long to load. You must structure your content in such a way that it fits every mobile screen size perfectly well and seems neat and appealing to the eyes of the viewers. The content should be easy to read and understand. Make sure not to have very lengthy pages for mobiles as this will tend to disinterest the users. Have the lowest number of ads possible because ads take up more space on the screen and slow down loading times.
Use these strategies to boost your rankings on search engines this year. You should hire a top SEO company in India to help you out with these strategies and provide the best possible user experience to increase your ranking.