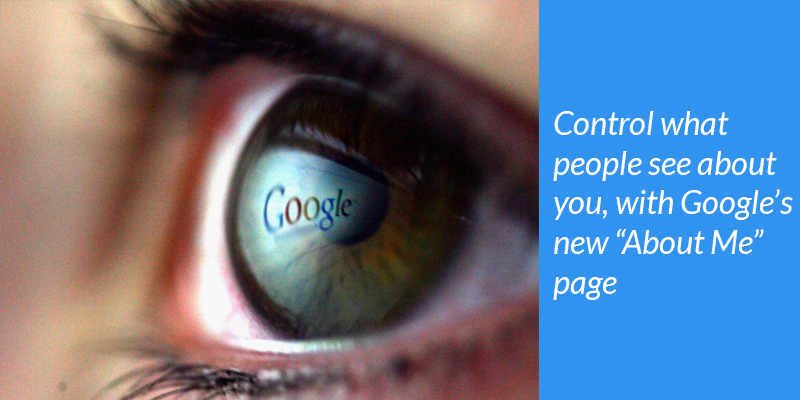 Do you know how much of your personal information is available online? Your name, date of birth, photograph, email address, education, place of work, etc. There are so many websites that have so much of your personal information stored with them. Whatever information you have online is also visible by the users. How much of your details do you want the world to know?
Google is the leading platform today. It has so many services and apps available with a whole lot of information about you – Google+, Gmail, Hangouts, YouTube, Drive and many more. With the consolidation of its privacy policy in effect from 1st March 2012, Google has been able to merge user data from across all of its services into a single place. This means that the data you provide on Gmail can be combined with the data you provide on YouTube. This kind of merging helps Google to better personalize your web experience but, there are many users who are uncomfortable while providing so much information online.
If you are also one of them, then here is some good news for you! Google has not announced anything officially but, it has recently launched a new page called 'About Me', which lets you manage your profiles across different services and apps from a single place. With this service, you can also control what information other people can know about you.
On the 'About Me' page, Google has stated,"Information in 'About Me' is information that people provided to Google directly. People can control what information is here and, on the About Me page they can control what others see about them across Google Services."
The 'About Me' page has made it clear that Google definitely has a lot of information about you. You now have the opportunity to change what you want to show to the world and what not from the entire list of details Google has about you. At the bottom of the page, you will see a link where you can change your privacy settings about your phone number, email address, work place, education and travel. You can either edit this information or delete it completely. However, there are some things you cannot edit like your date of birth. This shows that Google does not want this feature to be abused.
You will be able to see a green globe where your information can be seen by other users publicly while, you will be able to see a linked red circle if only the users within your social circle can see your information. If you want to make your information even more private, you can make use of the 'Privacy Checkup' tool, which lists various aspects of your different profiles, telling you what will be visible publicly and what will be seen only by your contacts. In case you are looking to expand the information that is visible, you can click the '+' symbol at the bottom and go through the options.
At present, there is a possibility that you see some errors when you make changes. This is because this page was uncovered a little before it was ready. Google is working towards solving this issue.