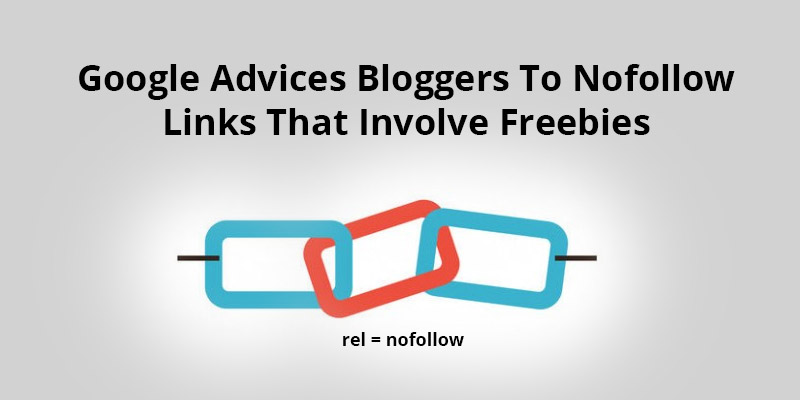 Google has been noticing lots of links being sold, purchased and exchanged. Brands have been engaging with popular bloggers to provide them free goods in return for links to their site. Seeing this practice on the rise, the search engine has published a new set of guidelines for bloggers who receive free products from brands in exchange for links. It has offered some advice on what bloggers must do in such a situation. Rather, Google says that it will take actions if it reckons that links have been added to posts in return for free goods. Google advises bloggers to nofollow links to company sites, social pages, mobile apps, online merchant's page or any sites selling the product in question, and also to a review site's page showing reviews for the product. In Google's words, "Bloggers should use the nofollow tag on all such links because these links didn't come about organically." This is because the links wouldn't exist if the company hadn't offered to provide free goods in exchange for the link.
Google has also insisted marketing firms to remind bloggers about the nofollow usage. Thus, the companies that bloggers are working with must remind bloggers to use nofollow on the links they provide. Google also adds that content creators must disclose their relationship with a third party, just as if this was a form of sponsored content, by stating this near the top of the post so that readers know that it is sponsored content before reading it. In fact, certain countries have strict laws that make this act of disclosure regarding sponsorship compulsory.
Links that pass PageRank in exchange for free goods or services go against Google's Webmaster Guidelines on link schemes. This confirms that certain blogger outreach marketing campaigns are now on the tech giant's radar. If Google sees a relationship between the followed links and freebies, the blogger will have to suffer considerably. Bloggers who fail to follow Google's advice will have to suffer manual action penalties for non-compliance.
However, there are some good reasons for bloggers to receive free products or services, and these bloggers seek to make money through affiliate links. This is how they cover the time spent for writing, or pay for hosting. A question that arises is that if companies are sending products to bloggers to genuinely look for feedback, why would the blogger not link to the site where visitors can buy them? Won't such a link then be natural? It is possible that the relationships in such cases are lawful and links are natural but, in the absence of clear contracts, Google may also penalize such genuine bloggers.
Google confirms that unique and persuasive content is the best way to ensure that the post is useful as well as compliant. The search engine says – "The most successful blogs offer their visitors a compelling reason to come back. If you're a blogger you might try to become the go-to source of information in your topic area, cover a useful niche that few others are looking at, or provide exclusive content that only you can create due to your unique expertise or resources." This verifies that blogger outreach campaigns and genuine authentic content that promotes a particular brand, product or service continue to live as rightful marketing approaches.