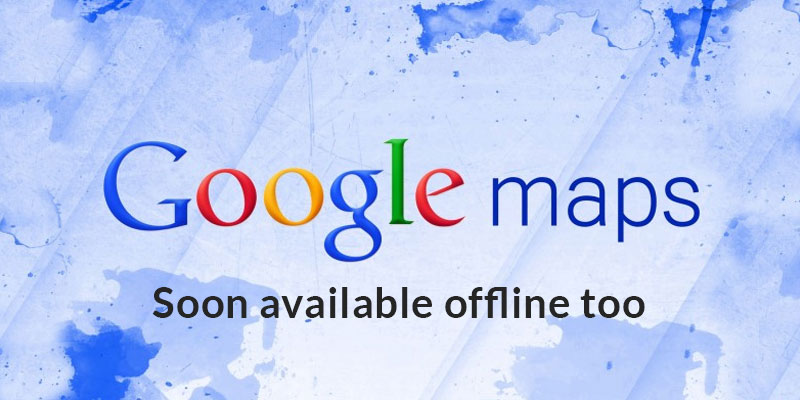 The world's largest mapping service, Google Maps was launched in the year 2005 and has over 1 billion users today. Since its launch, users have needed a Web connection to use its features. But now, Google announced that this app will be working both online and offline for the convenience of the users.
Google has been experimenting on improving user experience by making its apps go offline one by one like saving results in Chrome, saving videos from YouTube, etc. Now, Google Maps will also provide turn-by-turn navigation for routes saved for offline usage. This offline support will make the service useful in areas where Web connections are slow or unavailable.
Google stated in a blog post, "Roughly 60% of the world is without Internet today, and even where online access is available, it can still be spotty. That means that quick and easy access to information is still not possible for a majority of the population. This is a huge problem, especially as people attempt to navigate and explore the world around them. So, Google Maps is taking steps to help people across the globe find directions and get where they're going, even when they don't have an Internet connection."
This feature will allow users to download maps to their device when they are online and get a full Google Maps experience along with turn-by-turn voice directions even when they do not have access to the Internet. Google confirmed, "Now you can download an area of the map to your phone, and the next time you find there's no connectivity, Google Maps will continue to work seamlessly. You can get turn-by-turn driving directions, search for specific destinations, and find useful information about places like hours of operation, contact information or ratings."
You can search for an area and download the map for it by tapping 'Download' on the resulting place sheet or by going to 'Offline Areas' in the menu and tapping on the '+' button. After download, Google Maps will get into the offline mode automatically when there is no Internet connection available and will switch back to online mode when it finds a connection to display live traffic conditions and any accidents or road constructions in your route. The offline map will be automatically updated once in every 15 days when the device is connected to a WiFi connection.
Product Manager Amanda Bishop said, "We've been working on all of this stuff for two to three years. Google Maps happened to be really slow or completely unusable in many scenarios due to limited mobile internet. Users now don't have to do all that screenshot jujitsu before they leave and there's a much faster load time for search and driving directions."
This feature is going to benefit travellers visiting areas outside their mobile subscription plans and people who reside in emerging markets, where there is slow or no Internet connection yet. The offline map service for now will be available only for Android users and will soon be available on iOS too. Google has not mentioned how many countries its offline service will support but, it says that it wants its users to explore the world literally wherever they are.