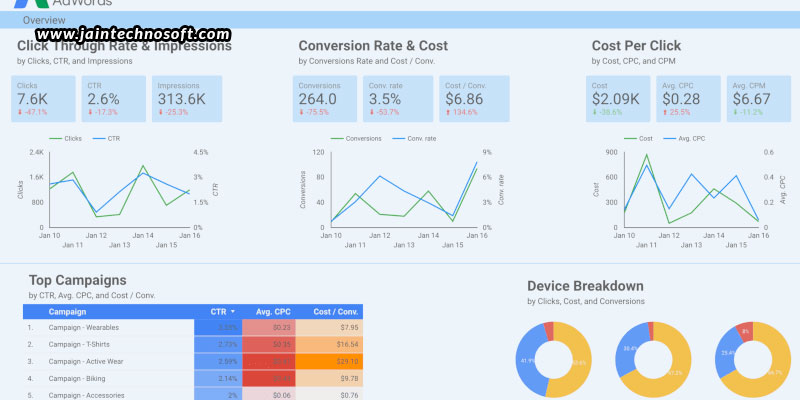 As clients, you would always want to see your business doing good and bringing you good amounts of money. However, for this to happen, it is very important that there is good communication and a mutual understanding between the service provider and the client. Similarly, it is also important that the service provider, or rather, the digital marketing company in India who the client has hired, presents the results and outcomes of the efforts put in, in a way that the client can easily understand. This is where Google Data Studio comes in. This blog will show you how to create a client-friendly local marketing results dashboard in Google Data Studio.
Money making
Making money is one of the major goals of any big or small business. One runs a business maybe to satisfy certain other goals too, but not if they aren't earning money. Google Data Studio can help show how a business is making money by boiling it down to the absolute basics. You can see a couple of data points and know whether things are good or bad.
Bringing in visitors
Bringing in visitors is another important aspect in any business. If you aren't able to fetch visitors to come to your site, there is no way you can do business. So, first of all, it is important to analyze if people are making a contact with the site. This can be broken down into separate columns, like phone calls or emails, for example. And, if there are multiple numbers, instead of finding out the number of visitors for each, you can sum up the total number of contacts for all the numbers together. This can be done with the help of a call tracking tool, which can help you add it all together, giving you a total of the number of times people have made a contact. Next, you can and should also find out where the visitors are coming from. And, along with this, also find out where customers are coming from. Now, these are two different metrics because not every visitor is bound to be a customer.
Call to action
Once visitors are coming in, you want them to take up a particular action. It could be filling up a form, subscribing, downloading, booking an appointment, buying a product/service, or many other things, depending upon what the business is about. Pulling out all this data into a Google sheet and then pulling it into Google Data Studio will help represent all the data in one place.
Now, let's speak about filling out the Google Data Studio dashboard. You can rename the fields as you would like and would suit the business. Next in line come comparison, percentage delta, goal percentage, and then again delta. You can sort by any of the columns you wish in Google Data Studio. You can also pick any time period you wish to look at. Another thing that you can do is use Supermetrics Google My Business plugin to grab information and hook it into the Google Maps account. There is just so much that one can do and find out with Google Data Studio; not on your own, but with the help of a professional digital marketing company in India.