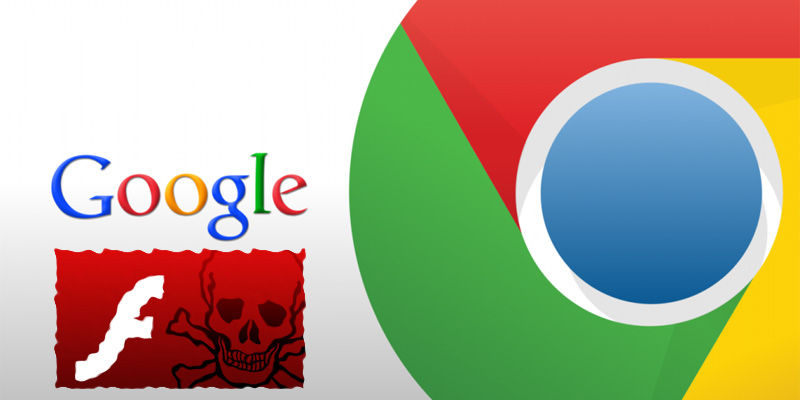 Adobe's Flash has been slowly dying for years now but, it hasn't yet been cut-off completely. It still pursues with videos and animations spotted across the Web. From September 1, 2015, Google Chrome decided to pause all unnecessary content on webpages. It has started to convert Flash advertisements into static images. This move was first announced in June, which had been first tried by 'Beta' and has now started rolling out to other browsers since Tuesday.
Flash has been powering a large portion of the internet over the past 20 years. So, why did Google decide to get off with it? Google has selected to do this because the technology of Flash is set such that it increases page-loading time and thus, kills battery more quickly, which in turn decreases user experience on Chrome. Also, Flash has always been known for its security breaches, with the most recent one being in July, which allowed hackers to execute the malicious code. This move by Google will be able to stop the spread of malware via malicious Flash advertisements.
With this new update by Google, Chrome will detect when a content that is not 'central to the page' is playing, and will block it, while maintaining playback of important audio and video. This 'intelligent pause' by Google will be enabled by default but, users who do not want to block these ads have the option of manually switching it on and off. This means that the Flash ads will not be deleted. They will still be available but, will play only for the users who want to see them. The users will have to manually click on them to start playing them. This will significantly boost security against malicious Flash ads and will reduce power consumption, allowing the users to surf the Web longer before having to find a power outlet to plug in the charger of their laptop.
Though this update has shown up now but, the option to kill Flash has always been there. Your browser has always given you an option to deactivate it. But, very few of us have been aware of this. So, Google decided to make it easier for us. With Chrome having a large market share, this could be a huge change not only for Flash but, for the entire internet advertising industry.
This is a great shock for the advertisers who have been using Flash. Those advertisers who still want to stick to using Flash for their ads are likely to see a significant drop in the users engaging with them. This move by Google is expected to prompt advertisers to give up using Flash. The alternative that Google and the Interactive Advertising Bureau suggest to the advertisers instead of Flash is the HTML5 technology, which provides similar functionality but, is definitely more efficient in terms of performance. Google has already been automatically converting a major portion of Flash ads in its AdWords network to HTML5 but, other sites will simply stop accepting Flash ads completely. Firefox has also recently blocked Flash by default. Amazon also has done the same, saying that this will ensure that the customers continue to have a great user experience on its platform.
With Chrome being the second most popular browser on the Web, this latest update is sure to get Flash completely dead soon!
Source: TheInquirer