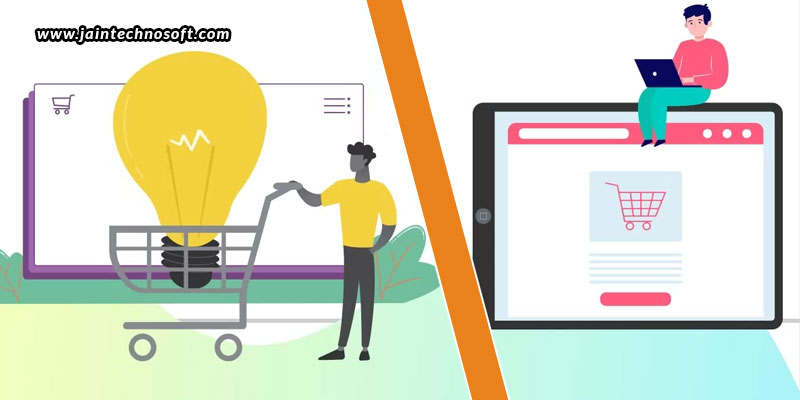 The eCommerce industry has been booming ever since Flipkart came up in 2007. But, since the pandemic scare hit us in 2019, the eCommerce trade has seen an exponential revolution! People have embraced online shopping more than ever before, taking advantage of which businesses have started adopting modern online business models and income channels. All sorts of online strategies are being seen, from a simple online shopping cart to advanced eCommerce capacities. Drop shipping, multi-vendor, marketplace, and many other such business models are changing the face of eCommerce marketing trends. Such abundant flexible options can help individuals build their eCommerce store more efficiently.
There are two ways of building an eCommerce store – an eCommerce shopping cart solution and custom eCommerce development. Both these methods have their own pros and cons that must be thoroughly analyzed before deciding upon the one to be used for a particular business. While both the methods can provide the best solutions and results with no additional time or costs to be invested in production, you need to understand which method you in particular need to adapt to your eCommerce store development.
eCommerce shopping cart solution
This is a readymade eCommerce software accessible through the cloud by a SaaS provider, which can help set up an eCommerce store systematically. There is no need of installing different source codes, or executing any complicated technical deployment while launching the online store. All that is required is an appropriate SaaS provider and a user account. Then, using a graphical user interface, the store can be personalized in a way to build a distinctive brand individuality.
Custom eCommerce development
This option is similar to the previous one, with the only difference being that it does not offer any hosted applications. There will be several source codes instead which you will need to install on a Web server and establish the eCommerce store. It is thus an on-premises service built by a third-party developer and controlled by the entrepreneur through any desired server.
Which option is the better choice?
Deciding upon which option to choose depends on a variety of factors like –
Setup time – An eCommerce shopping cart solution is quick to set up with additional features being included in no time, while a custom eCommerce development service requires extra time to install additional features.
Security – Security if of prime concern when it comes to being online. Both eCommerce shopping cart and custom eCommerce development are safe and secure, with the former's security depending upon the source codes provided by the service provider, and the latter helping you to choose your codes for the best security of your eCommerce store.
Inclusion of business tools – Business tools are required to operate your eCommerce store and run your online business. eCommerce shopping cart solutions offer limited opportunities for such inclusions, whereas custom eCommerce development services can help include APIs from any famous market tools.
Cost – eCommerce shopping cart solutions can help you choose feasible packages to control your expenditure, but you cannot control the complete possession in this case without paying for all the source codes acquired. Whereas, in the case of custom eCommerce development, your costs will depend upon the payments you make for personalization, inclusions, and deployment.
As you can see, both the methods have their reasonable shares of preference. However, shopping cart solutions are not desirable for all sorts of eCommerce businesses; custom eCommerce development services are more credible when you require a store with no form of constraint. An eCommerce store with fixed reserves and limited products can opt for shopping cart solutions, but if you are a large business enterprise, you must approach an eCommerce website development company in India to have a custom online store developed perfectly for you, in a way that you can aim at your target audience, and also accomplish your goals.