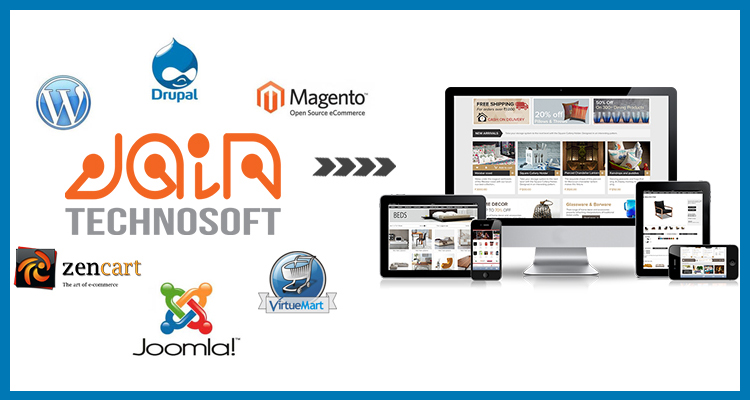 Content Management System (CMS) has surely changed the way web content can be managed. Now even a non-technical person can easily add, edit as well as manage the web content. CMS allows intuitive user interface, which makes it simple to build and modify web content as well as publish live updates on the web. Due to its simplicity and effectiveness, today we can see a boom in the use of CMS software. This has also leads to the question of how to choose a CMS for one's business.
So before you zero in on one of the popular CMS for your business, it is crucial to know your exact requirements, like
Is your business both product and service based or does it deal with just products or services?
Does your website require cataloging?
Are you planning to have a subscriber base?
Do you need user feedback?

These are few of the many questions which you need to consider before choosing a CMS. Also always keep the future requirements of your business in mind, as migrating from one CMS to another one is an arduous task. So always choose a CMS which will be helpful as your business grows in future.  Once you are clear about these important things you can very easily choose a CMS which will help your business grow. Consulting a good web development company, can also help you with the right choice.
Here are some of the popular and effective CMS you can choose from based on your business requirements:
This is an Open Source CMS and provides a Model-View-Controller Web Application Framework. Mostly used for web applications, internal websites as well as blogs; Joomla has a vast community support with 'Joomla! Extension Directory'. It is easy to install and provides page caching, RSS feeds, printable versions of pages, blogs, polls, news flashes, and supports mobile applications as well as language internationalization.
An open source blogging tool and CMS, WordPress is easy to install and extremely simple to use. Used mostly for eCommerce and blogging; it has several features and plugins and is also mobile responsive.
Alfresco Enterprise Edition
An Open Source CMS, this is generally used for Enterprise Content Management for documents, webs, images, records as well as collaborative content development. Excellent in CMS features, it provides robust technical support, high degree modularity and integration to backend services.
Drupal is an Open Source, free content management framework which is mostly used for government, corporate as well as political sites. Personal bloggers also use it. It is not only easy to download and install, but also has sophisticated programming interface for developers.
A web application framework and platform, it has all the basic CMS features. Along with being easy to install, Microsoft Sharepoint has MS Office type interface and an excellent technical support. It is mostly used in technology related, IT services, enterprise social networking and corporate portals. Intranet portals, extranets, enterprise search, system integration, business intelligence and workflow automation capabilities are some of the other exceptional features of Microsoft Sharepoint.
Apart from these Magento, Virtuemart, OsCommerce, Zencart, Mambo, CakePHP, ezPublish are other popular open source CMS.
For further details and better understanding on which CMS will be the best for your business you can get in touch with us. Our expert team will guide you through the entire process and help your business grow. We also provide excellent SEO services to help your business rank high in search results and drive traffic to your website.