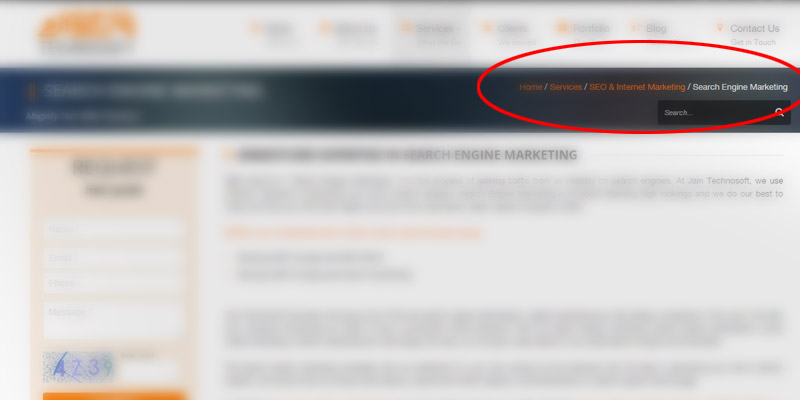 Breadcrumbs on websites work as markers that don't let visitors and search engine robots get lost while navigating through the site. They are a type of secondary navigation scheme that depict the location of the visitor on a website. With breadcrumbs, you can easily retrace your steps from the home page to the page you are currently on, as they indicate the website's structure, the path taken or the attributes of the current page being viewed. On websites that have lots of pages, these breadcrumbs reduce the number of steps to be taken to get to a higher-level page, thus improving the findability of a particular website segment. Not only do they prove to be useful and accessible to the users, but in fact they also have some great advantages for SEO. In this blog, you can explore about these advantages as well as learn some suggestions from our SEO experts on how you can optimize breadcrumbs for greater effect.
Benefits of breadcrumbs for users
Breadcrumbs help users understand the hierarchy of a website and help them to delve deeper to look for other pages of interest. This helps reduce the website's bounce rate, thus helping it to rank higher in SERPs. Also, navigating from a lower level to a higher one while staying on the site becomes easier with the easy layout that these breadcrumbs offer. This helps users to scan through the site and view more content at a faster rate. Moreover, breadcrumbs are completely optional. If users don't want to use them, they can as well avoid these breadcrumbs.
Benefits of breadcrumbs for SEO
Apart from ranking higher in SERPs as mentioned above, breadcrumbs have many other advantages when it comes to SEO. Breadcrumbs help search engines to see how one page on the site relates to another by being used in a hierarchy. Further, when breadcrumbs are paired with contextual linking to other related pages, the internal linking structure of the site is improved, which results in big gains for off-site SEO.
How to optimize breadcrumbs?
The basic structure of breadcrumbs should be as follows –
Link to the homepage using the website's main keyword > main keyword followed by category keyword > main keyword with a keyword that best describes the page the user is on
You need to make sure that your breadcrumbs are located in a prominent area where they can be easily viewed and prove to be effective. The best places are the top-left corner of the page or below the page's largest header. Moreover, incorporating the right schema markup will help you use almost any kind of styling for breadcrumbs. However, don't consider that you can use breadcrumbs to replace the "Back" button on your browser. Breadcrumbs must only facilitate moving to closely-related pages that level up in the same category.
With all these benefits that breadcrumbs add to the usability of a website, there is no reason you wouldn't want to use them. You can have the best Web designers in India to help you design the most appropriate and effective hierarchy for your website, while providing the best breadcrumb structure.