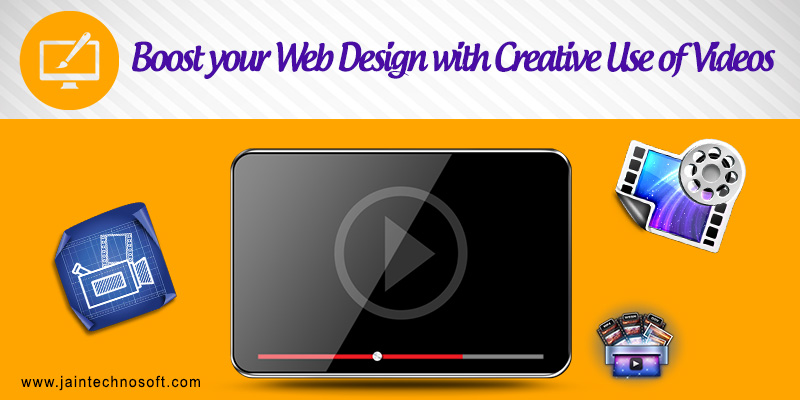 Videos are one of the most effective and potent tools of visual communication and making it a part of your web design is sure to add an edge to the website. Videos can be used creatively to deliver a direct and clear message to a broader audience and also bring their attention to your products and services.
One thing you need to keep in mind is that the kind of content and design you use for your videos depends on the products and services you intend to sell. In this blog post we bring you some of the most creative ways in which you can make use of videos on your website.
Food and Beverages Website
Some of the best examples of creative use of videos by Beverages and Food websites are of Russian Standard Vodka, and Hennessy. The well-known French cognac brand Hennessy uses a video background which provides an elegant fit to the website through vivid and remarkable use of visuals which are a happy combination of resource-intensive as well as simple.
You can also make use of retro style background video to communicate the plus points of your products and engage the visitors in a better manner.
Fashion Websites: Clothes, Shoes and Jewelry
Videos add a lot of advantage to fashion websites. You can use it as background video to announce the launch of new products or use it to complement the minimalist approach of your website without using heavy graphics or sound. This surely is one of the best ways to catch the visitor attention and engage them in a better manner. And in case you are thinking of a way in which you can be more interactive with your visitors, then you can use subtle animations instead of streamlining videos.
Hospitality Sector Websites
Videos for these websites can be successfully to give the actual feel and experience to the website visitors. Videos make it easy for them to understand the atmosphere of the hotel, restaurant, nightclub or bar. You can make your website more interactive by making use of a partly interactive background video which gives visitors a virtual walk through your hotels/ resorts/ nightclubs. This surely is the best way to engage the visitors and get better conversion rates.
Also there are several dance clubs and nightclubs which make use of videos to show the footage of the club itself and their establish tone and attitude.
Design Agencies, Advertising and Film Studios
If your website belongs to this group, then nothing can showcase your craft and talent much better than a video. So upload videos which give a real-time experience to the website visitors. One of the examples which is sure to inspire you is that of Designkitchen. This award-winning digital brand makes uses background videos throughout its website backed with supplementary videos depending on which section you intend to visit.
Thus by now we are sure, you would have got a broad idea of how a sensible use of videos is sure to add the extra 'oomph' factor to your website. One thing which you must focus on along with the content of the video is that it should be easily navigable and not waste the visitors' time in buffering. So along with your web developer come up with a unique and finely tailored video for your website and see a sharp rise in its traffic and conversion rates.