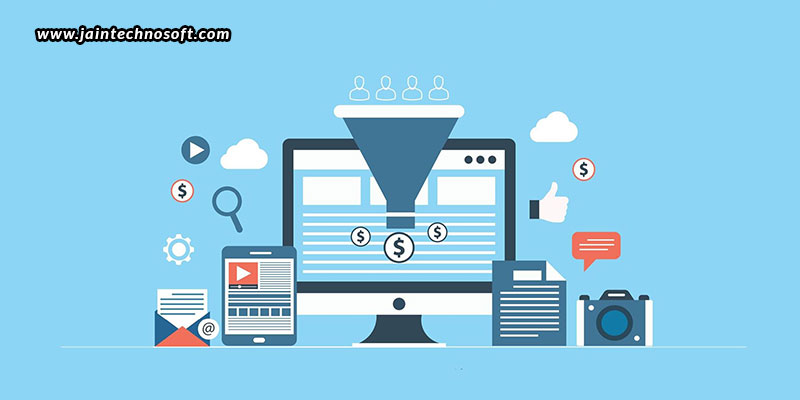 Almost every internet user today first researches for any product or service online before planning to buy it. So, you can see how important the Web is in today's world, making it very important for you to have a website if you are running a business, no matter how big or small. Having a great online presence for your business in the only way to increase the number of leads you receive, and this can be done by getting a website built by professionals who have immense knowledge about website designing, website development, and SEO services in India. While website designing and development is important to build a website, SEO knowledge is important to instill every important SEO aspect into the site. It is important to stay aware of every SEO changing trend and alter your website accordingly for the best results. Only if your website is thoroughly optimized with every changing trend, will Google consider ranking it high, which will then attract visitors. But, is attracting visitors enough? No! You need to make sure that every visitor converts. So, how do you ensure that? Here are a few ways which you can use to possibly boost your website's conversion rates.
1) Have a simple website layout
We know that you have all the skills and talent to build the fanciest website, but hold on! A fancy website won't appeal to everyone. Remember, you have all sorts of visitors coming to your page. Some may be experts to navigate through even the most complicated website structure to reach the page they are looking for. But, there are others who would leave your site if they don't understand the website structure. Thus, having a simple website layout is the best bet. Keep it easy so that visitors can reach your product page easily and buy from you; thus ensuring conversion.
2) Put up videos
Whether it is YouTube, Facebook, TikTok, or any other social platform, videos are becoming more and more popular, and engaging too. So, using this strategy, you can also put up videos on your website to attract and engage the visitors. Just think about having long paragraphs of texts on a page, and having the same content delivered to you in the form of a video; which one would you prefer? Obviously, a video right? You can thus put up advertisements, or display your product/services in the form of a video to attract and engage visitors, thus prompting them to purchase from you.
3) Put up reviews
As we said earlier, people first research online to decide on whether they want to buy a product or service. Thus, having reviews on your site can really help. When you have multiple users put up good reviews about your products/services on your site, visitors may go through them, deciding that your products/services are great. Hence, showcasing positive reviews that current customers write for your products/services will impact first-time visitors, converting them into customers too. This will also instill trust among customers for your brand.
4) Use call-to-action buttons
At times, visitors may not know what to do next. Even if you have a good website structure and clear navigation, the step that they need to take may be unclear. You can help them by placing call-to-action buttons at the appropriate places on your pages. For example, if you want them to subscribe, put up a "Subscribe to our Newsletter" call-to-action button; if you want them to sign up, put up a "Sign Up" button; if you want them to download something, clearly put up a "Download" button; and if you want them to enter their contact information, let them know it well by putting up a contact form.
5) Use a Heat Map
Understanding what your customers are looking for, and what they are expecting from you, if you provide them with the same, you can be sure to boost up conversions. So, how do you do that? Heat Map is the answer. Heat Maps will help you know about the most visited pages on your website. This will help you know where customers are going, and which pages are the ones that break the chain, compelling users to go back or leave the page, instead of moving forward to make a purchase. This will help you know where improvements need to be made. If you see a particular page performing poorly consistently, altering it can help. Making the right changes can take visitors up to your converting page, thus increasing conversions.