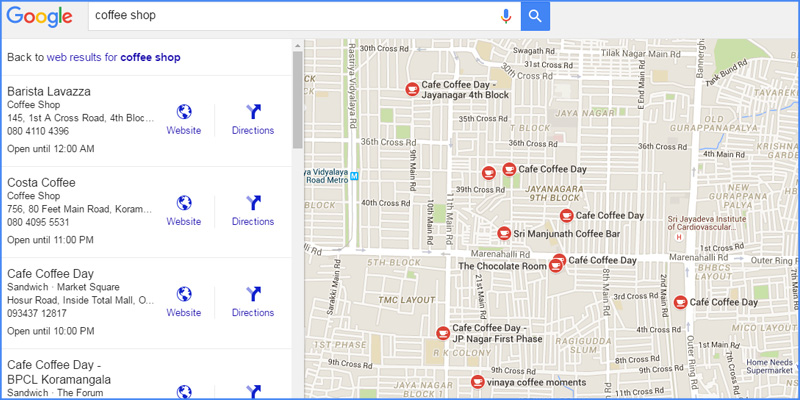 As we have spoken of in earlier blogs, Google has announced some significant changes to AdWords early this year at the Google Performance Summit. One of the changes was about introducing the next generation of local search ads. Almost one-third of mobile searches today have local targets, which is why brands need to start thinking about how to connect better with local customers.
The first and foremost thing every businessman needs to know is his audience. You need to very well understand what the needs and wants of your audience are. Use your historical customer data to help you target more customers. If you want to be seen on local search ads on Google Maps, it is important that you first set up a Google My Business account, along with which you must have an active AdWords account too. You must them sync the location extensions together.
Why has this change been brought about?
The main purpose of this change is to drive more offline traffic and conversions. Google has been able to keep an eye on the in-store conversions by tracking if a person who searched and clicked, in fact visited the store. This has been possible by checking the phone location history. Google has confirmed that in the past two years, it has been able to measure over 1 billion store visits globally! This has made mobile search ad conversion rise by a whopping 50%! This will mean more business competing in Maps ad auctions, and more weight on location extensions.
What changes will be seen?
What all changes will be seen in local search ads, you may ask. Here is the list –
Marketers can put up promotional offers and discounts.
Retailers can include local product stock.
Logos and offers from brands will directly appear on the top of Google Maps rather than alongside the map.
As Sridhar Ramaswamy, Google's senior VP of ads and commerce confirmed, "Maps users may start to see promoted pins for nearby coffee shops, gas stations or lunch spots along their driving route. Local business pages are also getting a brand new look—to encourage consumers to explore your store before they even arrive, we're adding new features like special offers and the ability to browse product inventory."
What are the benefits of local search ads?
Although AdWords is too expensive, considering the hype created by PPC lately, you will want to hire the best PPC services in order to benefit from local search ads to target a wide set of customers. And, what benefits you may achieve are stated below –
Getting visibility across the globe in this competitive world seems difficult. But, when you restrict your visibility to your own location and radius, you will be able to get a better ROI without a huge amount being invested.
Cutting off on the geographic location, your chances of appearing in Google Maps are higher by chopping off the competition to a great extent.
You will be able to keep an eye on where your money is going. You can target individual bids based on the device used and you can be sure that you are targeting only those who are likely to convert into customers.
How to have a successful local search ad?
First of all, you need to have a goal for your business, and one that is realistic to your customers too. Next, verify all your information listed in Google My Business, and optimize it to the fullest. Third step is to turn on the location extensions in your search ads like address, phone numbers, star ratings, opening and closing hours, directions to your store, etc. Lastly, you must target a specific location and determine your bids by locations based on those who search for specific keywords. Make sure to use locally targeted keywords.