Getting to the top of Search Engines for targeted keywords is one of the most successful marketing methods online. Jain Technosoft recommends Organic Search Engine Optimization. This is a slow and steady method of obtaining top Search Engine Rankings that will lead to your success. Over the years we developed a highly effective methodology / approach towards SEO. These are the various steps involved in the process: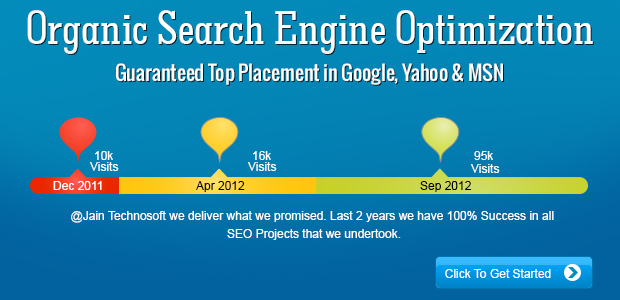 Finding the targeted search keywords
We work with popular SEO tools to find the best keywords for your website. If your targeted keywords are wrong, all the processes that will follow will not be effective. We make sure that the finalized keywords will have adequate search volume and also drive targeted audience to your website.
On-page SEO Process
A well-structured content rich website with correctly weighted keywords is essential for any SEO process. With the On-page SEO Process, we make sure that your website has the proper keyword density in its content and proper Meta Tags along with correct Tag / Heading naming conventions. If new content is required to reach the overall SEO goals, then we will write or augment your website content.
Off-page SEO Process
In the Off-page SEO Process phase, we create organic back links to your website using your keywords/key phrases. This is a slow and steady quality process. Every day we create a certain number of back links to your website. We don't use link farms or robots to generate these links. Our link building process is 100% organic and done by a real person. We do Article Submissions, Directory Submissions, Social Book Marking, Forum and Blog submissions and so on. This process generally takes 10-12 months to mature.