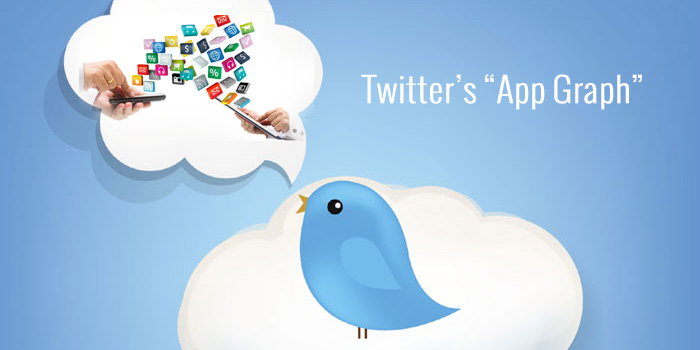 In a bid to build a more personal experience for its users, Twitter has announced the launch of "app graph", a feature which allows tracking the third-party apps installed on its users' mobiles. This feature will, therefore allow the company to see the various applications that have been installed on your mobile as well as other device.
Tweeters using the official iOS and Android apps for the microblogging site will be automatically opted into this service. The "app graph" feature will collect the list of apps installed on your mobile, and offer improved suggestions about whom to follow. So as to provide targeted advertising it will also add tweets, accounts and related interesting content to the users' timeline. Since July, this year Twitter has been offering sponsored tweets; but now it is vying to capitalize on the added advertisement value by tracking the interests and preferences of its users.
This feature will directly benefit the advertisers, as being a better targeted approach it will surely generate better click-through rate. At the same time, it is Twitter which is going to benefit the most by easily charge the advertisers for providing the target audience and thereby increase its profits.
Though Twitter has repeatedly assured its users' that it will be collecting just the list of applications installed by them and not any data within the applications, the announcement of "app graph", has surely ruffled a few feathers. Many of its users feel that the default opt-in feature is an attack on their privacy. In order to address this issue, Twitter has been quick to roll out detailed instructions on how to opt out of this service.
Often referred as the "SMS of the internet", Twitter is one of the ten most visited websites in the world. An online social networking site, Twitter allows its users to broadcast 140-character messages, known as 'Tweets'. Lately with a slowdown in the number of its users, Twitter has been under pressure to rejuvenate its user engagement strategy in order to drive growth. With more than 500 million users, of which 271 million are active users, advertisers are looking to target the audience in a much better fashion. As part of that effort, the company is also thinking of building additional mobile applications beyond its core messaging service. It is also working towards simplifying the sign-up process and systematizing content around geography and events.
This move of Twitter has raised several questions on ethics as well as the methods one can adopt in order to keep its revenues high. No doubt the user might get a 'better' experience as told by Twitter, but it would have been more appreciable if it was for the users' to decide on experiencing better and targeted advertisements. Thus instead of making the "app graph", a default feature Twitter should have left it on its users to decide if they want their apps to be tracked.
Rather than increasing the revenues, Twitter now runs the risk of losing the loyalty of its users. In case you are one of the tweeters who use the mobile app for tweeting, it is for you to take the final call on this new move by the microblogging site.