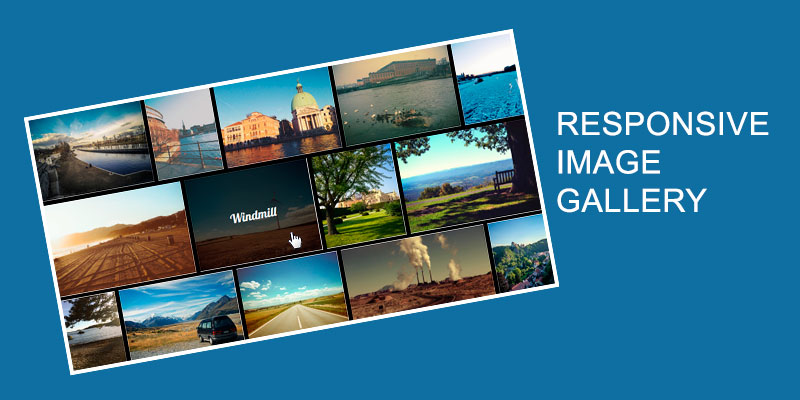 With the rising use of smartphones and other different devices for surfing the Web, it has become important for websites to become responsive in order to provide users with a great user experience on every screen size and thus, achieve success. And, the most important thing about responsive web design is the usage of images. What kind of images should one use and how should they be placed on the website to have a positive response? Here are some very essential tips that one must implement on placing image galleries in a responsive web design.
Type of images
The best option to use while implementing an image gallery is the landscape orientation, which makes it easier to view on small screens. If not landscape, you can opt for square images, but don't opt for portrait orientations. It is difficult to view portrait images on small screens and they won't be able to be viewed as keenly as landscape or square images. Landscape and square images also fill more area on the screen and appear larger, unlike portrait images.
Lightboxes
Lightboxes are used to show larger images where more detailing of an image needs to be seen. You are free to use these lightboxes to demonstrate the intricate features of your images but, restrict them only for desktop screens. Disable lightboxes on tablets and smartphones, or they may cause lots of user experience problems. For instance, if the lightbox doesn't size correctly, then the users may not be able to access the exit button, or the images may not display properly.
Navigational elements
It is easier to slide an image on smaller screens rather than tapping tiny arrows or navigational dots. Users will prefer swiping their finger up, down, left or right to have a look at other images in the gallery. So, instead of using arrows, navigational dots or any other elements for navigating to the previous or next image, provide the users with an option to swipe. Even if you use arrows or navigational dots, make sure to keep them hidden until they are needed. Let them be displayed only when users hover over the image gallery. This lets you have a neater and lesser jumbled view on mobiles. It also avoids distractions and conflicts between content and navigational elements.
Image scaling
Images should be large enough to fill the entire space of a mobile screen but, desktop image sizes should be set to a maximum width to avoid pixilated images. Set exact dimensions for your images. However, if you want to provide scaling of images, make sure your images scale down and not up. Also, set a percentage to be used only for one dimension and set the other dimension to 'auto'. For example, if the user wants to span an image by 50%, let them have to input 50% for the width of the image such that the height itself adjusts itself according to the width. This is the best way you can avoid distortion of images.
Image captions
If you are planning to use captions or any sort of text with your images, remember that it gets difficult to fit the text on smaller screens. Smartphones have limited space thus, adding text may make the entire user experience cluttered. Also, you will have to keep a check on how the text that looks good on desktop will appear on mobiles.
Whatever you do, keep in mind the users and the various devices that they may use to surf your website. Follow the above tips to make sure that your users won't face any problems while viewing your images on any kind of screen size. Hire the most professional website design company that has an expertise over all kinds of responsive websites, so that you can have the best user experience on your site.