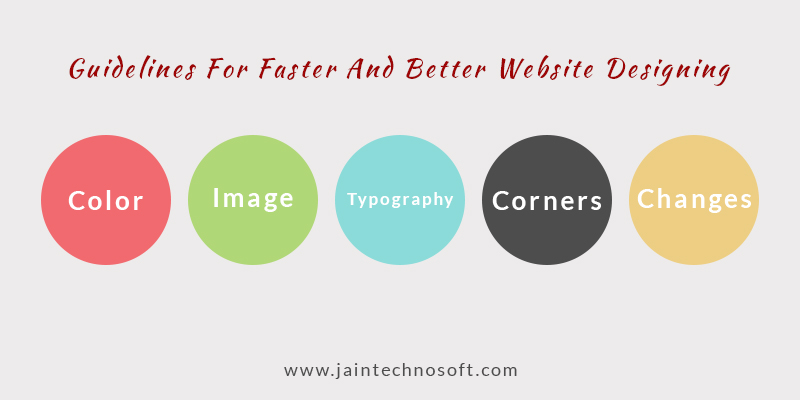 Designing a website is surely a very lengthy process, which takes a lot of time. And, time is the most imperative today. Working efficiently in the shortest possible time frame is very important. To complete tasks in the most qualitative way in the shortest possible time, we provide certain tips and tricks that can help you.
Colour scheme and alignment
The most important and noticeable thing about a website the visitors view when they first visit a website is its design – colour scheme, white space, aligning of content, spacing between elements, etc. It is vital to select an attractive and relevant colour scheme for your site depending on what your business is about. For this, you can first select colours you want to use and then pick up the main colour of the site. Now, overlay this main colour on the other colours one by one and play with the opacity until you get the best combinations possible. For checking out your alignments and spacing, you can create squares for every spacing you have kept between elements. This will help you analyze if all your elements are aligned and spaced properly, and if the amount of white space does justice to the rest of the page.
Image rules
There are lots of images you use on a site. Here are some tips to help you with image issues. When you want to export a PNG from Photoshop, you must export it as an 8-bit PNG, which will slash down the file size while keeping the quality of the image intact. For transparent images, it is recommended to use PNGQuant, which converts 24-bit and 32-bit PNG files to 8-bit PNGs without affecting the transparency and quality of the image.
Typography
Typography is another major element for web designers. It plays a very important role in deciding the look of a website. To get the best free web fonts to choose from for your website, you can use 'Font Squirrel'. If you want to quickly build and compare different typographical palettes, you can use 'Typecast'. To make adjustments on the fonts you have used, use 'Google Fonts', with which you can select the font you want and follow a link that will redirect you to the Typecast app, where you can use your selected font wherever you require on your text and can make adjustments to the font size, line spacing and more.
Rounded corners
This might seem not too considerable for you but, every tiny detail of a design plays a very important role. You might not consider this tiny little thing, but if you are using rounded corners for your logo or icons, it does make a difference. Obviously, the final effect is to be decided by you but, the best rounded corners are those that have soft curves rather than those that have steep rounded corners. Soft rounded corners will be achieved when you have two rounded corners running parallel, with the outer corner having a larger radius than the inner one. For example, if the radius of the inner corner is 10, then the outer corner should have a radius of 30. You must remember that the difference in border radius of two objects should be equal to the gap between them.
Applying changes all over the site
You want to apply a single change on your site but, you need it on different places all over the site. So, what do you do? Make the same change everywhere one by one? No! CSS is the trick to apply the same change all over the site at one go, which will help you to apply a change globally to the whole site. Don't you think this is an excellent time saver?
With these few tips, you can make your working process easier and reduce your working time, while maintaining great quality. There is lots more a designer needs to take care of while designing a website. We, at Jain Technosoft, have the best website designers in India, who have expertise in working with different kinds of clients locally and internationally, catering to businesses in almost every field.