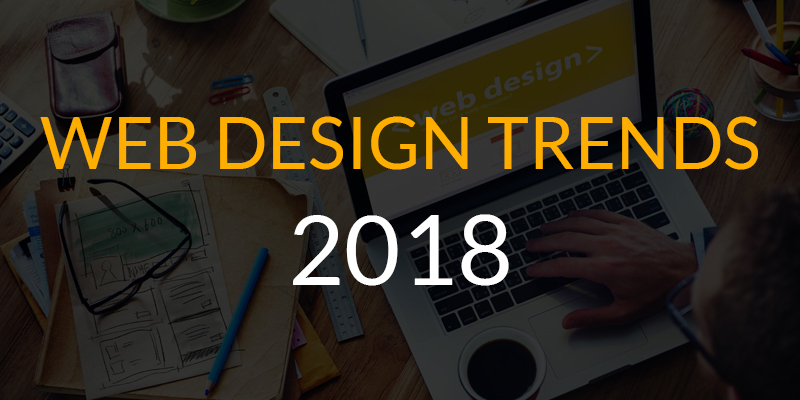 Every Web designer needs to stay updated with the latest tools and technologies in the field of Web designing. Web design trends change often as technology evolves. However, as designs evolve over time, there is one thing that remains true – first impressions matter. Up to 75% of visitors confirm that their decision about trusting a business depends upon the visual appeal of their website. This verifies that website design matters the most, which is why you may need to hire professional and expert Web design services in India to help you design a visually appealing and high performing website in 2018.
With 2018 arriving in just a month, it is important that we know what the latest Web design trends are that designers must consider using. Staying updated and incorporating the latest design trends can develop high-quality websites that can boost user engagement and improve the online presence of a business. To help, in this blog, we take a deep dive into the latest design elements that every website must incorporate in 2018.
Colours
Websites are getting brighter and brighter with large bold graphics, patterns, and gradients. Bright and bold shades will be incorporated in both material and flat designs. Simple designs in soft colours will be switched to catchy designs in vivacious hues. However, bright colours can be a challenge for older individuals as they can make a Web page harder to read. This is why you will need to carefully consider your audience before jumping on using a bright coloured theme. Moreover, a bright coloured theme will have a lower probability of longevity than a more classic minimalistic design.
Geometry
Use of geometric shapes like lines, circles, and geometric shapes, is not a new concept. But, it is supposed to witness further development in 2018 through mixing of various forms and patterns on a Web page. Both flat and material designs will combine these geometric shapes. However, rectangular shapes and card-based layouts are the most popular trends to be used with the growth of mobile usage. This is because rectangles scale easily from large screens to small, and vice-versa, to provide a simple way to group different types of content. Cards are also familiar as they are a great way to browse content for anyone who uses Google or Android devices.
Typography
Because people generally spend only a few seconds to scan a page first before deciding to delve deeper into the content and website, it is important that your pages catch user attention with the right elements in the first few seconds itself. This is why in 2018, you will need fonts that stand out. Bold, expressive, and larger-than-life typography is what will be the new format in 2018. Bold font styles will help users to focus on your content, with enough white space to make it easier to read and skim through. Large buttons and hero images are going out of style, making way for large typographic expressions. Typography will become the main design element with large type elements and interesting display fonts. Earlier, designers were restricted to only a few Web safe fonts, but now, web fonts are widely available and relatively inexpensive, with many being free too. Now, we will be seeing many colourful, playful, and artistic fonts on websites.
Graphics
Graphic illustration is going to gain popularity in the year 2018 in the areas involving sketch art and contour drawing. Sketch art has already captured businesses, and will continue to develop in 2018. Contour drawing also will lead against other icon-designing techniques due to the unique appeal of these icons.
Photo Content
Obviously, eCommerce stores have to pay maximum attention to their photo content as more than 60% of users make their purchase decision based on the photos incorporated on the website. But, 2018 will have all kinds of websites focusing on their photo content. Unique and original pictures will gain focus, leaving stock photos aside. It is individuality that will highlight your exclusivity. This is why digital designers are gaining even more importance as they use novel ideas and original objects to create distinctive and appealing designs.
Animation
Videos and GIFs are going to be gaining even more popularity in 2018 to offer a real smooth visual appeal to the users' eyes. Animation adds enough drama and movement to website pages and retains visitor attention for longer. However, 2018 will not see flash and flare animations. The animations will be strategic, minimalist, and purposeful enough to increase engagement and conversions. More advanced scroll triggered animations are going to be the new element that will encourage users to keep scrolling down website pages with specifically triggered interactive elements that will draw them down the funnel to the conversions point, while educating them about the product, and ultimately increasing engagement. This will also clean up the look and feel of the website.
So, how ready is your website for 2018? Remember that an outdated website can significantly reduce conversions. Old cluttered designs can only distract visitors and have you losing them. So, incorporate the above mentioned elements in your website, and make it 2018-ready.