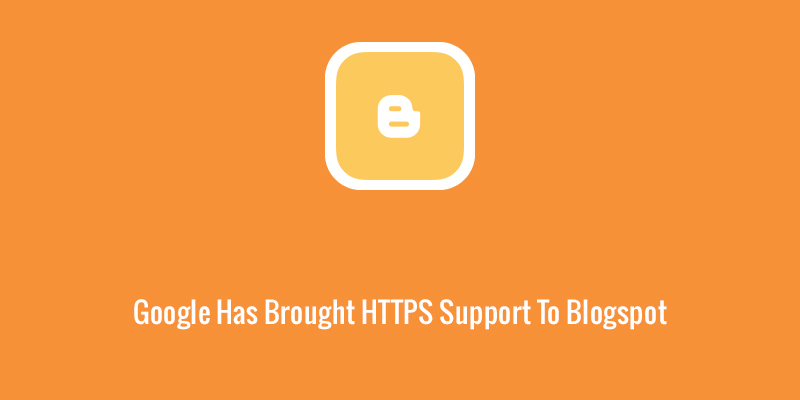 Blogger is a blog-publishing service that is used for publishing articles and web pages in a domain or website, due to which users no longer have to use the file transfer protocol to run their websites. This service was developed by Pyra Labs and was bought by Google in 2003. Blogspot is a free domain service provider, also owned by Google, to support Blogger in delivering its free blogging service.
Since the past 8 years i.e. since the year 2008, Google has been working to encrypt the HTTPS connections between its servers and its users. Its Search, Gmail, Drive and many other products have encrypted connections by default. Google has even recently made announcements considering the same service provided for its ads products.
HTTPS is a foundation of internet security, which provides many important benefits. It ensures that the bad sectors cannot track the activities of blog authors and visitors on a site, and neither can it steal any kind of information. It also helps the visitors to open the correct websites, without being directed to any malicious location. It also helps to detect if a bad sector tries to change any kind of data sent from Blogger to a blog visitor.
On 30 September 2015, Google announced that it is working towards expanding its 'HTTPS Everywhere' mission and takes a step forward to begin an initial roll-out of HTTPS support for its Blogspot blogging platform. This initial roll-out won't support all the Blogger users for now but, Google wanted to atleast start making HTTPS available for Blogspot. It says that this service will be rolling out gradually and will expand to support all Blogger users soon.
For now, those Blogspot authors interested in enabling HTTPS support can begin opting for it by logging on to https://www.blogger.com and clicking on the blog that they want to make HTTPS enabled. Then, they will have to navigate to the Settings page and select 'Yes' for 'HTTPS Availability'. This will let your blog become accessible over both HTTP and HTTPS connections.
However, there are some issues faced in this first version. The blogs with custom domains are not supported yet. Also, after enabling this feature, it is possible that some of your functions in your templates, gadgets and blog post content won't work because they have not been written for sites on secure connections and may lead to mixed content errors, which may be rectifiable by the authors themselves.
Google has started moving its own blogs over to HTTPS gradually, beginning with with both the Official Google Blog and the Google Online Security Blog. Its other blogs will follow soon. Now, Google also uses HTTPS support as a ranking signal in its search results. At present, it is a very lightweight signal carrying less weight than other signals. It is at present affecting less than 1% of global queries, giving webmasters time to switch to HTTPS. But, slowly with time, Google will strengthen this ranking factor because it prefers to encourage all website owners to switch from HTTP to HTTPS to have a secure web experience.