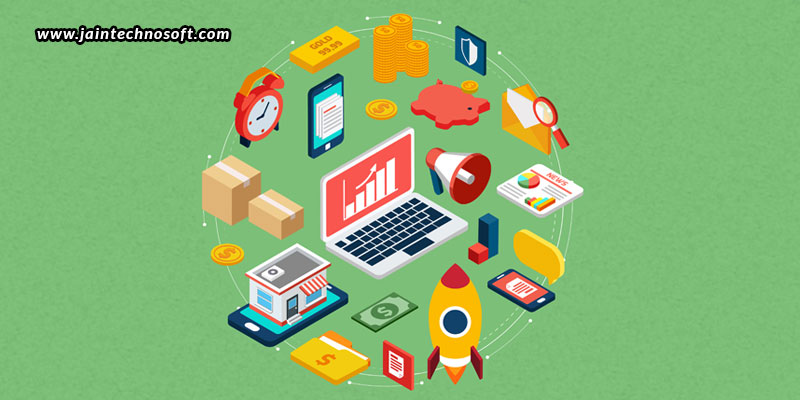 There are a myriad of digital marketing tools available, each serving its own distinctive purpose. You may use such tools to work online with peers, track your projects, schedule your social media posts, or anything else; but these tools are certainly needed at some point or the other to proceed with your online work. Different digital marketing professionals have different preferences when choosing their favourite tools. With different positions in different industries, serving different services, the tools used by each professional are also diverse. No matter what tools they may use, but it is important that every digital marketing professional today is tech-savvy.
Different categories of digital marketing tools
The digital marketing tools used are mainly covered in seven categories, namely SEO or SEM, social media marketing, eCommerce marketing, advertising management and analytics, collaboration, remote working, and Web designing. If you're willing to explore the best digital marketing tools in each of these categories, we'll help you learn about them in this blog. Experienced professionals have been surveyed about which tools they like the best, and why; and the same has been listed below.
SEO/SEM tools
Google Analytics, which helps understand the types of visitors coming onto a site, the pages they explored, and the time spent on those pages; helping ot understand what is engaging and creating conversions.
SEMrush, a tool for keyword research, keyword ranking reports, and competitive audits to compare search engine results, and identify the opportunities for optimization on the site.
Screaming Frog, a tool that helps download an entire site into a spreadsheet to review it all at once, thus identifying any missing or incorrect data across the sire, with errors, redirects, duplicate pages, and more.
Google Data Studio, which helps to see all the SEO and PPC KPIs in one place.
Google Tag Manager, which helps set up the correct triggers and tags in attribution reporting and campaign optimization.
Google Search Console, which helps measure the success of the SEO strategy, by monitoring the ranking and performance of target keywords, and highlighting any technical issues.
Similarweb, a tool for competition analysis, helping to identify the main traffic source for competitors based on website visits, and analyzing the rationale between organic and paid traffic segmentation, in terms of search volumes, keywords, CPC, etc.
Social media marketing tools
Sprout Social, an affordable social media management tool offering simple solutions to scheduling, community management, and analytics.
NetBase Quid, a social listening tool that helps track conversations outside the owned properties, surrounding specific industries, brands, competitors, or products; thus assisting with understanding audiences and identifying trends.
Tubular Labs, a global video measurement and analytics platforms that helps keep the brand on top of social trends, while also understanding what other brands are doing on social.
Synthesio, a social listening platform that helps strengthen social media strategies by capture social media intelligence from different markets.
Facebook Business Manager, a tool that can fuel FB/IG marketing strategies and product exceptional results around website clicks, conversions, ultra-targeted ad campaigns, etc. by allowing to manage multiple pages, accounts, and business assets, all in one single place, so as to target the right audiences.
Buffer, which can schedule posts across Facebook, Instagram, LinkedIn, and Twitter.
HubSpot, a tool that can schedule and track the progress of social media campaigns, giving a 360-degree view of the progress of the campaigns.
Falcon, a tool useful in managing organic social media posts for multiple campaigns, and pooling data from the reach obtained.
eCommerce marketing tools
Shopify, a scalable out-of-the-box eCommerce solution with hundreds of integrations and a seamless user experience, both on the front and back end.
Google Analytics, to monitor tools, which gives a good overview of how the site is performing, and what needs to be improved.
Pingdom, an ongoing monitoring tool that provides push notifications if any site goes down so that any issues can be rectified immediately.
WooCommerce, an affordable management tool that can turn a WordPress site into an eCommerce powerhouse, taking up charge of scheduling, community management, and analytics.
ly, a tool that makes it easy for clients to make their payments.
Advertising management & analytics tools
Google Data Studio, which provides a free user-friendly interface to visualize data and showcase reports, and combine data and metrics from several sources to draw direct comparisons on performance, and identify opportunities for optimization.
BigQuery, which is an excellent data warehouse, and helps fetch data from third-party sources.
Google Ads Editor, which is essential for any Google Ads manager to organise and operate large ad accounts, allowing efficient bulk editing and visualisation.
Google Ads Scripts, which has a whole team of developers in-house to build pretty much anything needed for PPC management.
HubSpot, which helps analyze the flow of a lead past the initial contact point, and into the various sales stages all the way to a closed deal.
Collaboration tools
com, a great project management tool that makes running an account very smooth.
Toggle, a time management tool that accurately tracks the time you spend on different tasks, thus helping you manage and monitor where you're spending your time throughout the day.
Asana, a project management tool that helps deliver work to the highest standard, in a timely manner.
Google Data Studio, a tool that can help monitor campaign performance, with a large number of integrations allowing to aggregate all the work into a single view.
Trello, which helps share deliverables with a number of people, thus providing visibility and accountability on projects.
Remote working tools
Slack, that helps individuals and groups stay in touch, making communication and information sharing easy and intuitive through video calls and screen sharing features.
Zoom, a great video calling tool that can help people stay together, while staying apart.
Google Chat/Google Meet, tools that help with video calls, as well as the feature of sending a quick message to a client or co-worker in the middle of the call.
Google Calendar, a tool that can coordinate a team, even when individuals reside in different physical locations.
Web designing tools
Figma, for wireframes and UI/UX designs, with the Multiplayer feature that can have multiple people working on the same design in real time.
InVision, to present mobile, tablet, and desktop design prototypes, helping to understand the designed experiences better.
Adobe Suite, including Photoshop, Illustrator, Premier, and After Effects, to enrich the designs with creative and immersive animations and videos.
Abstract, a tool for version control of design files in the same way development teams manage their branches and master files, allowing teams to always work from a single source, with updates being managed and reviewed by admins.
Miro, a tool for remote workshops and collaboration, providing the opportunity to stay engaged and active in remote sessions.
With the above references and reviews, you are now in a better position to use the best digital marketing tools for your particular purpose. Or, even better, you can hire a professional internet marketing company in India, who can look after every aspect of your online presence, right from website designing and advertising, to SEO, SEM, SMM, and eCommerce marketing.