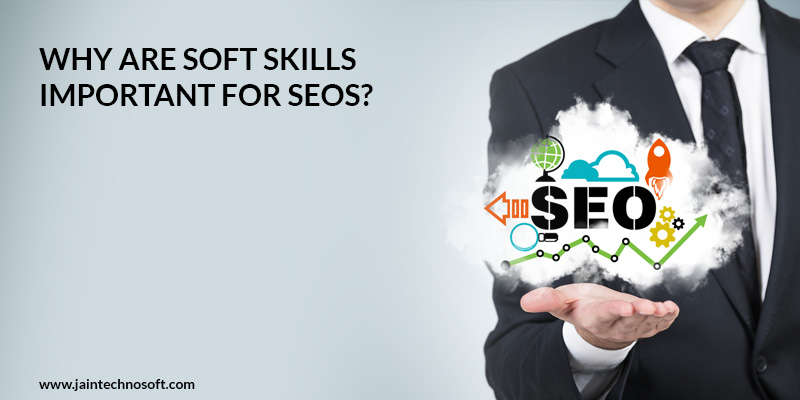 SEO is ever changing and everyone knows that. Google's algorithm keeps changing multiple times a day. In order to go with the flow, it is important that you learn the new skills required with every change and transform yourself accordingly. Talking about skills, you might think that SEOs require only technical skills. But, this is not it. SEOs apart from technicality, also require soft skills. What are soft skills – you may ask. Here, in this article, we will let you know all about soft skills – what they are, why they are needed and which ones are required.
What are soft skills?
Soft skills are those traits possessed by a person that portrays his/her emotional intelligence quotient. These include personality, communication skills, language control, habits, social dignity, leadership qualities, management capabilities, etc. In other words, soft skills are are those traits that characterize your relationships with other people and enable you to interact effectively and harmoniously with others.
Why are soft skills needed?
If SEOs have all the technical knowledge and possess all the necessary technical skills but lack on soft skills, they won't be able to get their job done. This means that unless you possess the right soft skills, you can't get your job done right. Here, we describe in detail why soft skills are important and how they can help.
Co-ordination – If you possess good communication skills, right way of putting up your point, leadership qualities and management efficiency, then you can co-ordinate the work of your teams at different levels conveniently. It is very important that you have different teams in your organization communicating well with one another for the best results, and it is you who needs to put in efforts and take care of it.
Teaching – In order to maintain co-ordination, it is important that you can explain your points to your team. You need to be constantly in the 'teaching mode' if you want perfect results. Thus, soft skills are necessary to help explain and teach others to work efficiently.
Adaptation – Since you know that SEO is constantly changing, it is important that you also upgrade your knowledge and skills accordingly. This change can be brought only if you have the skills to do so. So, here again soft skills are required.
Persuasiveness – Once you have your teams in perfect co-ordination working together harmoniously, it gets easier to persuade clients to buy from you. When your boss sees you putting in effective efforts for the organization, it will get easier to persuade him to make any changes in the working as per your wish.
Which soft skills are required by an SEO?
Strategic vision – In SEO, it is highly necessary that you bring in new strategies, approaches and methods for the working of your organization and to create a positive impact. For this, a strategic vision is very important. Better strategies bring more success. And, strategies without a vision are useless.
Leadership – Once you have your strategies and methods in mind, you need to instill the same thinking in the minds of your team members. You need to lead them in the right way on the right track. For this, you will need all the leadership qualities like better interaction, responsibility, focus and training ability.
Patience – If you want to instill some skills into your team members and want to bring in harmonious working and co-ordination, it is very important that you have the level of patience to wait calmly if things are not turning out the way you wish them to or if bringing in changes is coming about too slowly.
Adaptability – As mentioned above, with the constantly changing SEO, it is important that one adapts to these changes as soon as possible to stay in the flow. There is a whole lot of adaptation and flexibility required in the field of SEO. A survey has identified two topmost skills for SEOs – the ability to embrace change and adapt to strategies quickly.
Persuasiveness – Persuasiveness is also another skill spoken of earlier, and this is a skill that is required at many levels – persuading the team to implement a new strategy, persuading the boss to make required changes, persuading the clients to purchase from you, and much more.
Now, you are well aware why soft skills are needed and which skills are important for SEOs for better working of their organization. So, along with all the technical knowledge, make sure you have SEO professionals who also possess the basic soft skills. If you want your organization to succeed, you need to hire the best professionals in town. Jain Technosoft is one such company, who can offer the best SEO services in India, with professionals who apart from having the deepest and most advanced SEO knowledge, have excellent soft skills too.